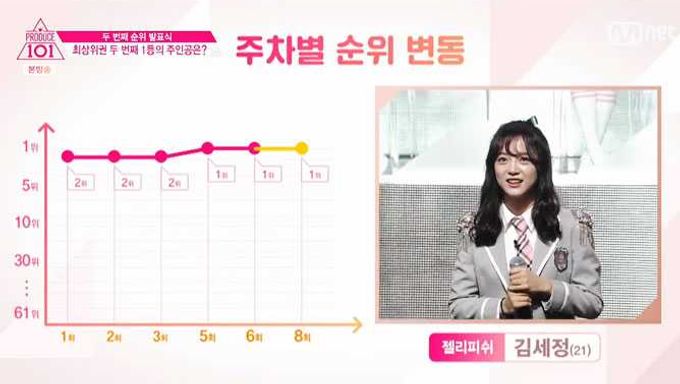 It is hot topic that the current rankings of Produce 101 candidates were released on March 11.

The rankings for contestants from No. 1 to No. 35 place were revealed. At the end of the 8th episode of the Produce 101, the latest ranking was published, rearranging the all-important Top 11 rankings. A total of 61 trainee girls have been nominated in the list, and 26 dropouts occurred among them. 
Must Read : Which Trainee Will Debut? : Produce 101 Profile
The idol survival is the program from Mnet in order to make a 11-member group from 101 trainees from different agencies. With the voting system adapted in order for fans and viewers to participate. Jellyfish's Kim SeJeong maintained its crown for a two week, while Fantagio's Choi YooJung, Jellyfish's Kang MiNa, JYP's Jun SoMi, and Jellyfish's Kim Na Young followed her from No. 2 to No. 5 respectively. Sadly, out of the 26 members cut, none of them were from the most widely known agencies. The ranks are similar to the tendency of public's favor found at the candidates' personal focus videos released last week. 
Here are the rankings in order:
1. Kim SeJeong from Jellyfish Ent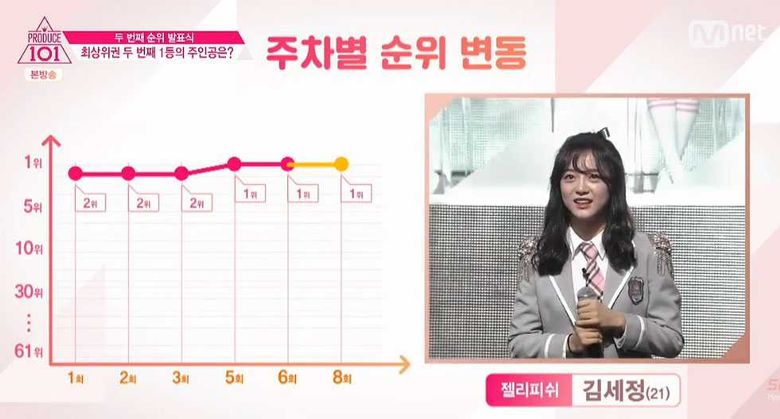 2. Choi YooJung from Fantagio Ent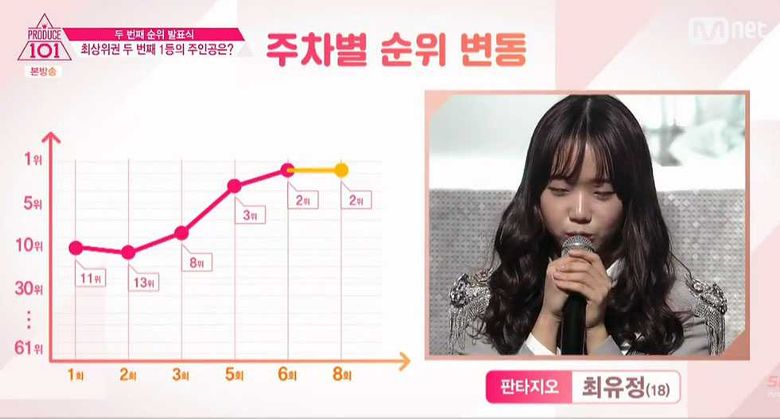 3. Kang MiNa from Jellyfish Ent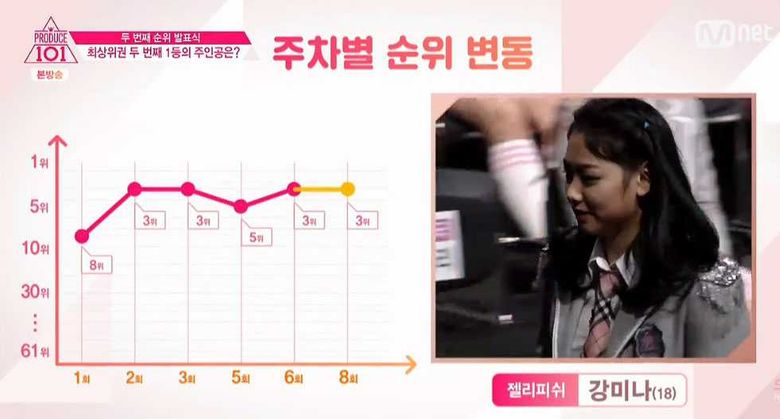 4. Jeon SoMi from JYP Ent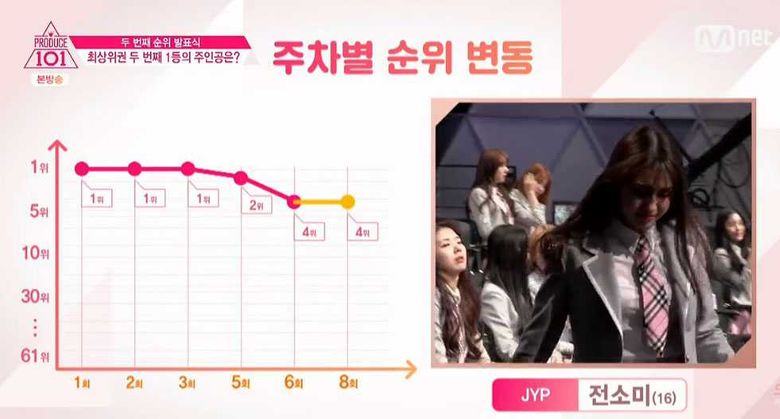 5. Kim NaYoung from Jellyfish Ent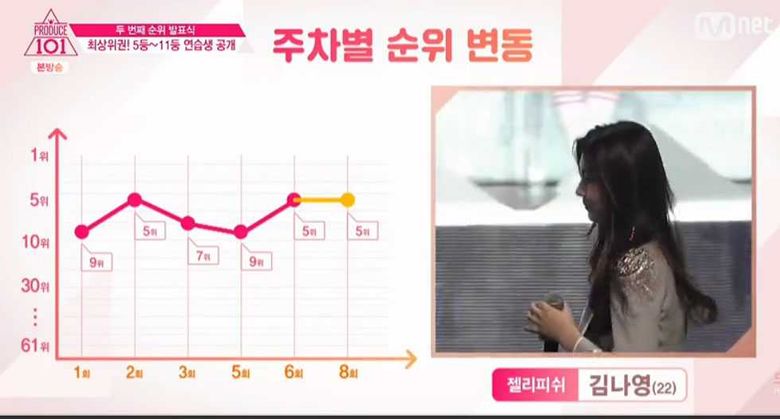 From No.6 to No.11 in the next page!
Naturally, many K-pop fans flocked to the category list to see where their favorite trainee girls were nominated — and to vote for them. The remaining 35 contestants on Produce 101 will continue to compete for a spot in the jointly-managed 11-member girl group that will be formed from the most popular trainees.
Must Read : Top 11 Beautiful Candidates Of Produce 101
6. Zhou Jieqiong from Pledis Ent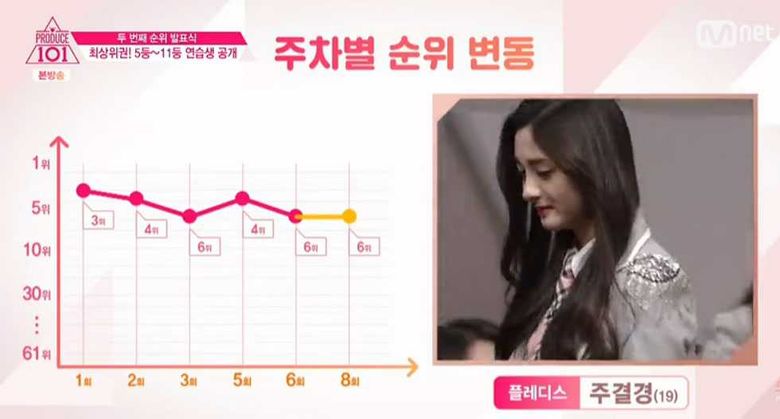 7. Kim DoYeon from Fantagio Ent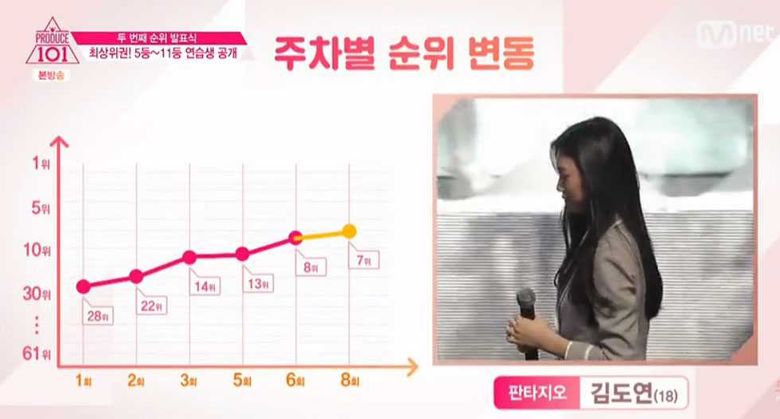 8. Kim SoHye from Redline Ent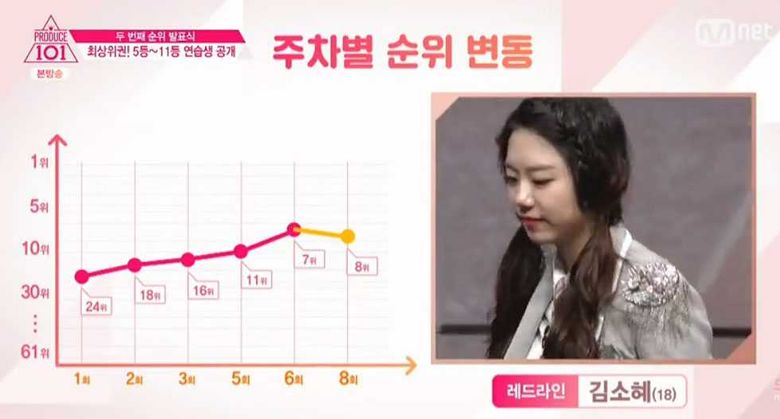 10. Yoo YeonJeong from Starship Ent