Project idol group Unnies' s members expressed sadness of disbanding through their lovely autograph letters. Here's photos and translation of them.
All the members of Unnies revealed their sorrow of good-bye on letters because Unnies finished their project girl group activity with the last show on 26th of May.  Let's take a look at what they said to fans!
1.SoMi 
"Dear my 'DongSangs' (which means younger sisters in Korean) ~♡
Today I am your Unnie and Noona (which both mean older sister in Korean) even though I am younger than you actually. 
Thank you for your support and lovely wishes toward Unnies.
I'll never forget. Thnx you fans of Unnies for making me unforgettable memories!
♥ love yall ♥ "
2. Minzy 
"Unnies ♡ Dongsangs (which is the fandom's name of Unnies)
Thank you so much for much love toward us 🙂
Thinking about the time we had together!
I will keep those time deep in my mind
I love you and I will remember you 
FOREVER ☆"

3. Hong JinYoung
"Hey Dongsangs~ 
I'm so happy enough to fall down into a faint for your amazing love!!
I'll never forget forever 🙁 ♥
Unnies & Dongsangs both have done well ♡"
Must Read : MV )) Unnies – Right? (Sister's Slam Dunk Season 2)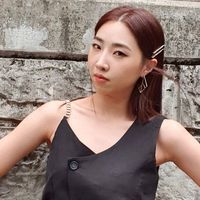 Became a fan of Minzy
You can now view more their stories