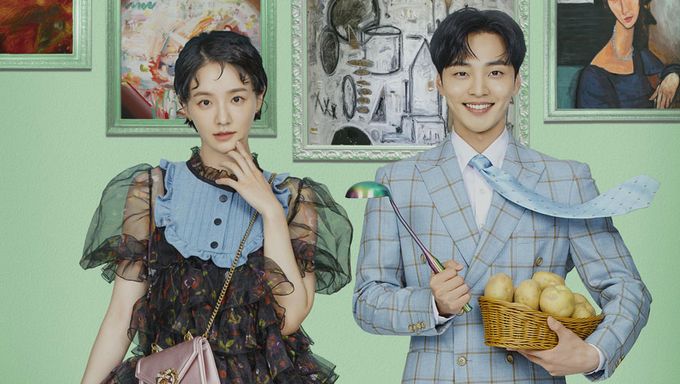 "Dali And Cocky Prince" is a romance drama about two people with opposite backgrounds being drawn together through their "art chemistry."
The leads in this drama are Kim MinJae, Park GyuYoung, Kwon Yul, Hwang Hee, (former MOMOLAND member) YeonWoo, and Hwang BoRa. 
Kim MinJae started his career as a rapper and has steadily risen to fame for his acting. He has starred in the dramas "Do You Like Brahms?", "Dr. Romantic 2", "Flower Crew: Joseon Marriage Agency", "Tempted", and "The Best Hit". 
Park GyuYoung made her acting debut in 2016 and has had many major roles in dramas since then. She has appeared in "Sweet Home", "It's Okay to Not Be Okay", "The Nokdu Flower", "Romance is a Bonus Book", and "Miss Independent Ji Eun".
Former MOMOLAND member YeonWoo has appeared in the dramas "Cheat On Me If You Can, "Alice", "Live On", and the TV show "Idol Fishing Camp".
Kwon Yul has appeared in the dramas "Let's Fight Ghosts", "Whisper", "Voice, Season 2 and 3", and "The In-Laws".
Hwang Hee has appeared in the dramas "Lovestruck In the City", "The Reason Why I Can't Tell You", "Tale Of The Nine-Tailed", "Doctor John", "Arthdal Chronicles", and "Tomorrow, With You". He will also be appearing in the upcoming MBC thriller drama "The Veil".
Hwang BoRa has appeared in the dramas "The Zombie Detective", "Hyena", "Vagabond", "What's Wrong With Secretary Kim", "The Miracle We Met", and "Borg Mom".
The director, Lee JeongSeop ("Healer", "Queen For Seven Days", "Angel's Last Mission: Love") and the writers, Son EunHye and Park SeEun, are in charge. An official from "Dali And Cocky Prince" said that they "hope the drama will appease the hearts of the viewers and bring them happiness while watching."
Here is more information. 
Dali And Cocky Prince (2021)
Information
Title: Dali And Cocky Prince / Dalliwa Gamjatang / 달리와 감자탕
Director: Lee JeongSeop
Writer: Son EunHye, Park SeEun
Network: KBS
Runtime: From September 22
# of Episodes: 16
Genre: Romance
Language: Korean
Summary
A romance drama about a man who knows nothing but money a woman who knows nothing but art.
Cast
Kim MinJae as Jin MooHak
MuHak is the second son of a family that owns a global gamjatang restaurant chain. He is ignorant and is always thinking about money. Although his family's business has reached great success (it is in the Top 10 of the domestic restaurant industry) MuHak is very frugal. He remembers poverty all too well and has a specific criterion that he sticks to when making a purchase.
Dali is the only daughter of a prestigious family. She is the type of person to always display a neat appearance and is very charming. She also has a kind heart and loves to study.
She graduated from a top university in Korea and has a deep knowledge of various fields such as art, history, philosophy, religion, etc. She is also skilled in many languages; English, Japanese, Chinese, French, Spanish. Despite all of that, she runs into a problem when her father suddenly dies and she goes bankrupt. She needs someone's help to get her life back on track.
Kwon Yul as Jang TaeJin
TaeJin is Dali's first love and the exact opposite of MuHak. He is a chaebol and managing director of one of Korea's leading companies. He is thought of as Dali's "Long-Legged Uncle" and helps her in many ways.
Hwang Hee as Joo WonTak
WonTak is a detective in the Violent Crimes Unit and a childhood friend of Dali. He is a man of few words and, when he does decide to speak, he is honest and blunt.
The only time he becomes gentle is when he is in the presence of Dali, who he has been in love with for a long time. He doesn't dare confess to her as he thinks it would cross a line.
YeonWoo (Former MOMOLAND) as Ahn ChakHee
ChakHee is a gallerist who frequently boasts about her beauty. She is the daughter of a member of the National Assembly who has power but lacks financial resources. Therefore, her dream is to enter a chaebol family and run an art gallery.
Hwang BoRa as Yeo MiRi
MiRi scouted MuHak and made him her secretary after she saw him working as a part-timer at a gamjatang restaurant. She is level-headed and honest, but she lacks common sense (MuHak likes that about her). She often points out MuHak's ignorance but on the inside, she wholeheartedly supports him more than anyone else.
Teaser & Poster 
Here is one of the teasers.
Here are the official posters.