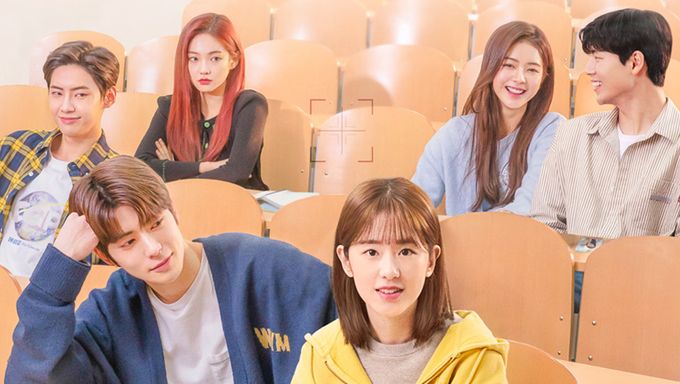 "Dear.M" is a drama that is already interesting many because NCT's JaeHyun is cast as the lead.
JaeHyun is debuting in acting with this lead role in "Dear.M". NCTzens have been excited at the news of his casting. Many are looking forward to his debut.
Park HyeSu is the lead actress, she has acted in dramas such as "YongPal", "Hello, My Twenties!", and "Saimdang, Memoirs of Colors". She got her first lead role in "Introvert Boss".
Bae HyunSung is also a lead actor. He is a rising actor who has caught attention in "Love Playlist" 3 & 4, "Extraordinary You", and "Hospital Playlist". Roh JeongEui joined in the cast, she gained attention with her role in "Kill it", "The Great Show", and "18 Again".
This drama is the extension of the world of the web drama "Love Playlist 4" (a spin-off), the popular series of Playlist studio which has more than 500 million views. In the drama, Kim SaeRon and Bae HyunSung have a romance line. They are the "JiHa couple" [JiMin &HaNeul couple]. Kim SaeRon dropped from the cast of "Dear.M" and was replaced by . JaeHyun and Park HyeSu are the new addition to the "Love Playlist" world. CLC's Kwon EunBin has a supporting role.
Playlist and Monster Union are working on this drama to air on KBS. The directors Park JinWoo ("To.Jenny") and Seo JooWan ("I Hate Going To Work", "Love Revolution") are in charge.
The drama will be also available on Playlist YouTube Channel, 2 weeks after it aired on KBS.
Here is more information.
Dear.M (2021)
Information
Title: Dear.M / 디어엠
Director: Park JinWoo, Seo JooWan
Writer: Lee Seul
Network: KBS x Playlist
Runtime: Postponed
IMPORTANT NOTICE: the airing date was changed due to the lead actress Park HyeSu's school violence rumors. KBS is still discussing a new date but that might be after the airing of "Imitation" around August.
Genre: Campus romance
# of Episodes: 12
Language: Korean
Summary
It tells the stories of students of SeoYeon University who try to find "M", the anonymous main character of a story posted on the school community that turned the school upside down. The characters' romantic lines will change as they are looking for "M".
Cast
NCT's JaeHyun as Cha MinHo
MinHo is an audacious and bold second-year student of the Computer Science Department. With a brilliant idea, he is developing an app.
He has been the best friend of JuAh for 12 years.
Park HyeSu as Ma JuAh
JuAh is a brave and bright second-year student in the Business Department.
She is good-hearted and generous but also a nosy friend who loves to meddle in others' life. She has decided to never date and is not interested in getting a boyfriend.
Bae HyunSung as Park HaNeul
HaNeul is the honorary ambassador of the school and studies in the Department of Business Administration. He now dreams to be a game developer.
She is the center of the cheerleaders and she studies in the Department of Economics.
UP10TION's Lee JinHyuk as Gil MokJin
He is the roommate of MinHo and HaNeul. He studies in the Psychology Department (2nd year). He is the mood maker in the dormitory.
Woo DaBi as Hwang BoYoung
She is an expert in dating. She studies in the Department of Business Administration.
CLC's Kwon EunBin as Min YangHee [Supporting]
YangHee is a student of the Computer Science Department like MinHo.
Because she was raised preciously, she is a bit witless. However, she is a girl with a lot of charms that can't be hated.
Interesting Facts
Here is the teaser.
Here are the official posters.