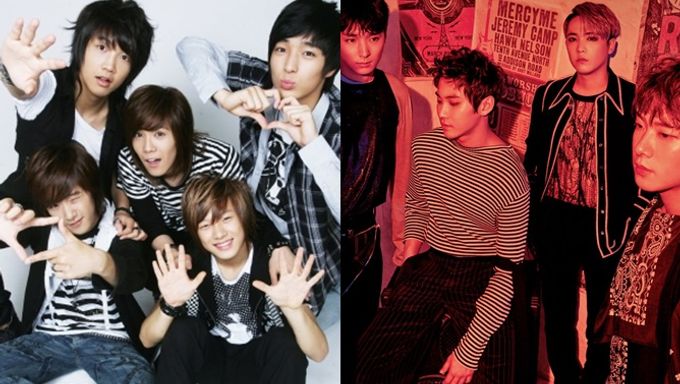 Debut to now. Take a look at how the FT ISLAND band has grown since their beginning to their latest comeback!
Our comeback segment, Debut to Now, features the history and transitions of K-Pop groups. We introduce you to how far in their K-Pop life they've come, and what they have accomplished. We also feature a comparison photo of each member during their specific album promotions. All in chronological order, of course! In celebration for their upcoming comeback, we look back on the years of Wonder Girls.
Must Read : Teaser )) FALSE Version of 'Where's the truth' for FTISLAND 6th Album
FT ISLAND is a 5 member pop rock bank formed by FNC Entertainment. They were the first ever group to debut under FNC Entertainment. The band consists of members JongHoon, HongGi, JaeJin, MinHwan and SeungHyun. They debuted on June 7, 2007 with their debut album "Cheerful Sensibility" and the title track 'Love Sick'. The band was a hit from the beginning as a talented flower-boy band, mastering in both talent and visuals. As a band, they have broken records and made history among the K-Pop stars. The boys are all set to make their comeback on July 18, 2016 with their impressive 6th album titled "Where's the Truth?"
Have these K-Pop rock stars changed much since their debut? Take a look to see their accomplishments so far and what we have to look forward to from now on!
Debut to Now: FT ISLAND
(2016 Comeback)
1. Discography (Album Covers)
As the first ever artists under FNC Entertainment, the group has an extensive list of discography. The band has always been diverse in their music, from soft rock to completely pop. One thing that has never changed was their talented instrumental skills. The band has always took the stage as an instrumental band. They started off with a ballad type rock with "Love Sick" back in 2007. Their latest track 'Pray' from "I Will" was one of the most heavy metal rock styled songs that the group released. Their upcoming track 'Take Me Now' seems to have a similar taste to their 'Pray' vibe rather than their 'Love Sick'.
2. FT ISLAND Members
JongHoon: As the leader and main guitarist of the band, JongHoon has always been in charge of the charisma and all around heartthrob hunk-ness. A personally favorite in JungHoon's growth was when he added keyboardist to his list of position. We recommend checking out his solo "Severely" performance on the keyboard during FT ISLAND's FTHNX Concert. A man on the keys is definitely a sexy sight!
HongGi: The main face and vocalist of the band, HongGi started off as an adorable flower boy with a kick ass husky sound. The huskiness hasn't changed, but HongGi has definitely shed some of his flower-boy prettiness for a rebellious rock band image. With his multiple flavorful tattoos and a more mature image, HongGi grew into his main-vocalist-of-a-band role just perfectly. 
JaeJin: JaeJin debuted with such a cute image that it was hard to see how he will mature with the boys, but JaeJin did just that! Not only did he grow in nicely into a man from a cute boy, but also into the shoes of an actor. Following his older sisters' footsteps, JaeJin tried his hand in acting. He made his acting debut in 2007 with "Unstoppable Marriage", but soon went on to nab more prestigious roles on screen as well as on stage!
MinHwan: As the maknae of the group in charge of drums, MinHwan had a slight awkward side to him during their early stages. That awkwardness took a turn for the better as we can evidently see in the photos below. MinHwan had slowly, but surely, shed his awkward rookie-ness and grew up to embrace the sexier side of himself. MinHwan's physical appearance wasn't the only thing that improved over time. His vocal talents improved drastically over the years, landing him the main role of Lee Shin in the Japanese musical, "Goong"!
SeungHyun: Although SeungHyun was added into the lineup 2 years after the band's debut, he has become an essential part of the group. As a 'replacement' for former member, Oh WonBin, many had their speculations. How would the band be with a new 2nd guitarist? Well the Primadonnas had little to worry about, because SeungHyun was an added freshness that completed the band. As SeungHyun progressed with the band, he started dabbling in composing as well. We can't wait to see how much more this heartthrob is going to grow!
We've taken a nostalgic down memory road throughout the history of FT Island. We can't wait to see how much the band will continue to grow!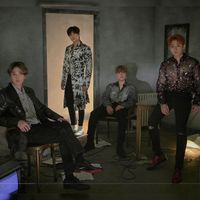 Became a fan of F.T. Island
You can now view more their stories