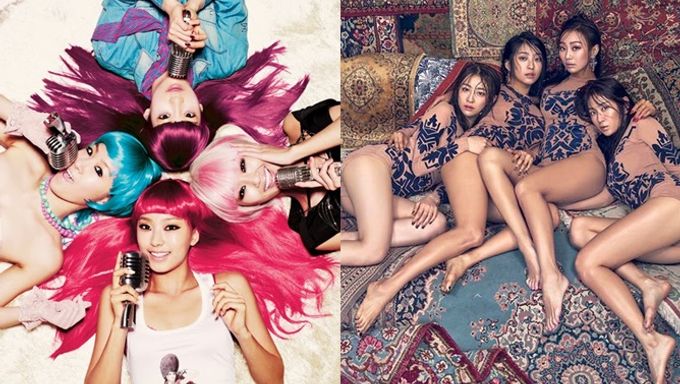 Debut to now. Take a look at how our SISTAR ladies have grown since their beginning to their latest comeback!
Our comeback segment, Debut to Now, features the history and transitions of K-Pop groups. We introduce you to how far in their K-Pop life they've come, and what they have accomplished. We also feature a comparison photo of each member during their specific album promotions. All in chronological order, of course! In celebration for their upcoming comeback, we look back on the years of SISTAR.
Must Read : Woman Crush Wednesday: HYOLYN of SISTAR
SISTAR is a 4 member girl group formed by Starship Entertainment. The group consists of HyoLyn, BoRa, SoYou and DaSom. They debuted on June 3, 2010 with their debut single, 'Push Push'. The group were first compared to 2NE1 often, because of the same number of group members as well as both of their colorful concepts. However, SISTAR quickly took an image of their own and has risen to the top of the K-Pop scene with their own color and voice.
Have these K-Pop divas changed much since their debut? Take a look to see their accomplishments so far and what we have to look forward to from now on!
Debut to Now: SISTAR
(2016 Comeback)
1. Discography (Album Covers)
SISTAR has been dubbed the queens of summer, mostly because all of their refreshing tracks made a grand slam during their summer releases. After their debut sing 'Push Push', SISTAR has continued to pave the way in summer time music with a long list of hits such as 'So Cool', 'Alone', 'Loving U', 'Give it to Me', 'Touch My Body', 'I Swear', 'Shake It' and so much more! Now the girls have geared up for another hit track for the summer with their fourth album, "Mol Ah Ae" with the title track 'I Like That'.
2. The SISTAR Members
HyoLyn: HyoLyn has definitely made various changes in both appearance and career choices since her debut. Once, this powerhouse vocalist was boyish with a slight dark skin complex, but now we know her as the sexy diva with the perfect tan. We've always known that she had legendary vocals since debut, but these days, her rapping as well as her dancing skills have been putting HyoLyn in a whole new spotlight!
BoRa: People may have mistaken BoRa as just another pretty face with a hot body (not that she doesn't) before, but now she's proven to be so much more. We were first awaken to her sex appeal through her sub-unit promotions as SISTAR19 with HyoLyn, but who knew that this lady was also down-to-Earth and quirky! With her super charming, easy-going personality, this diva's known to run with a seriously impressive squad. Take her ultra best friend, for example, Tiffany from SNSD.
SoYou: From feminine vocalist to fitspo girl crush! SoYou has definitely made a name for herself, especially out in the K-Beauty world. SoYou was always known for her soft, yet powerful voice. But she'd given her image a makeover as she started exercising and dabbling in healthy living. When we think of SoYou now, all we can think about is her healthy, sexy image!
DaSom: The Baby SISTAR no more! DaSom was known for her cutesy image and lovely concept, but DaSom has shed her baby image for a mature and feminine feel. Perhaps she's been learning from her older SISTARs, but her sexy poses have become even more sultry with a mix of sophistication. Her refreshing change was definitely for the better, because it's landed her acting roles in the drama "The Eccentric Daughter-in-Law".
We've taken a look of SISTAR throughout the years. Through the changes and consistencies, these K-Pop divas have proven their status as the main queens of the summer scene!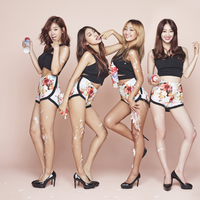 Became a fan of SISTAR
You can now view more their stories