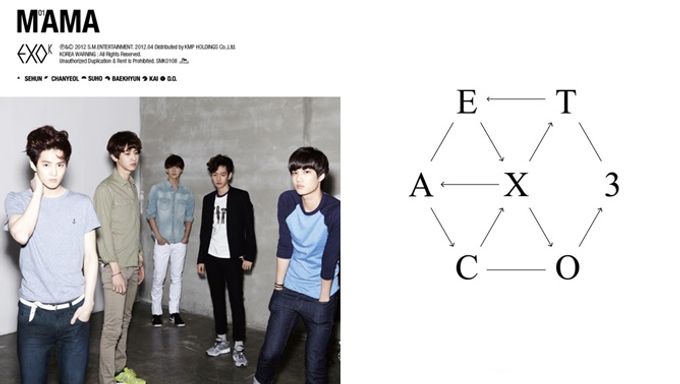 Debut to now. Take a look at how our EXO boys have grown since their beginning to their latest comeback!
Our latest segment, Debut to Now, features the history and transitions of K-Pop groups. We introduce you to how far in their K-Pop life they've come, and what they have accomplished. We also feature a comparison photo of each member during their specific album promotions. All in chronological order, of course! In celebration for their upcoming comeback, we look back on the years of EXO.
Must Read : A Kpop Group of 9 Gods From EXO Planet : EXO Profile
EXO initially started off as a 12-member boy band who officially debuted on April 8, 2012 under SM Entertainment. The group name was taken from exoplanet, and their fandom name has been decided as 'EXO-L'. After a few members leaving, the group now promotes as a 9-member group consisting of BaekHyun, ChanYeol, Chen, D.O, Kai, Lay, SeHun, SuHo and XiuMin. The group was divided into two groups: EXO-K (Korean) and EXO-M (Mandarin). Their most notable hit tracks consists of dance tracks such as 'Growl' and 'Overdose'.
Have these K-Pop Kings from the Exoplanet changed much since their debut? Take a look to see their accomplishments so far and what we have to look forward to from now on!
Debut to Now: EXO
(2016 Comeback)
1. Discography (Album Covers)
EXO has continuously released hits after hits with every album, which means that their discography is full of memorable and impressive contents. Even before their debut with their first official mini-album "MAMA", the boys have been hyped up by Lee SooMan himself through two prologue singles 'What is Love' and 'History'. After their debut mini-album, EXO shot up in the charts starting with 'Wolf' of off "XOXO". They broke into domination status with their mega hit track "Growl", and history continued on from there. With continual hits such as 'Overdose' and 'Love Me Right', EXO has reached immortal status in K-Pop history!
2. The EXO Members
SuHo: Our heartthrob leader hasn't changed his image much since his debut. His dandy image and leadership role has kept the EXO members in check, especially towards the maknae, SeHun. Although his strict personality may be overlooked by his members, he's maintained the group by winning them over with snacks! Keep up the good work, Leader!
XiuMin: Our dumpling faced baby of EXO's image hasn't changed much since debut. He still looks like the maknae of the group with his adorable baby face and small stature, but as the oldest hyung, XiuMin has worked hard to change at least a bit of his cute image. Since debut he has shed much of his baby weight and took on muscle building. We see less of his dumpling cheeks now, but XiuMin will always be our fake maknae of the group!
BaekHyun: Possibly the member with the most personal growth since debut, BaekHyun's nice guy image seems to be layered with more maturity since his debut. BaekHyun had undergone more turbulence than the other members, since he was the first member to publicly date a fellow celebrity. Whether it's because of his love experience, his voice now resonates more deeply when singing.
Lay: As the last remaining Chinese member of the group, Lay certainly has a lot of weight on his shoulders. If we thought Lay was hard working since debut, he has upped the scale by working double time to prove to his fans that he is an EXO forever. With his own personal workshop in China, Lee SooMan has given him more responsibilities as the Chinese representative of the group. We can clearly see more maturity and manliness in his image now than his previous sweet boy next door style.
SeHun: Our maknae may look like a manly man, but he's the EXO baby at heart. It may just be me, or because we slowly get to know him better, but his manly image seems to be shedding more since his stone cold statures from debut.
Chen: Chen has certainly been busy upgrading himself. While juggling busy schedules and solo works (such as OST features), Chen's image of a gentleman is seeing more of a manly edge. As the main vocalist of the group, it's no wonder how both his image and his skills are upping their game!
D.O: D.O.'s always been the quiet, caring member in the background during their debut stage. However, don't we EXO-Ls know that our KyungSoo has definitely made his signature presence known! He may seem like a quiet, to-himself kind of person, but D.O definitely had a quirky side. He's even earned the nickname of "AlMoKyung", which means "Just as you think you know KyungSoo, you don't (Aldagado Moleul KyungSoo)." We love both his talented vocalist side, his amazing acting side, and his quirky off the beat side!
ChanYeol: ChanYeol's bright and happy image hasn't left him since his first days of debut. And we love him for it! One thing that fans have been noticing is how colorful and stylish our ChanYeol is getting! With more appearances on variety shows, we think that he's picking up a few things from other celebrities!
Kai: Our main sexy man of EXO, Kai has both changed and not changed since his debut. His stand-off-ish image makes him more sexy and unattainable, and that image has followed through with him throughout the years. However, his image has reached a different class. Maybe it's from all the love he shares with f(x)'s Krystal, but Kai has definitely gotten sexier!
We've taken a look of EXO throughout the years. Through the changes and consistencies,
these K-Pop Kings from the Exoplanet have proven their status
as the main stars of the K-Pop boy groups!
Must Read : Idols' Ideal Types 2016 Compilation: EXO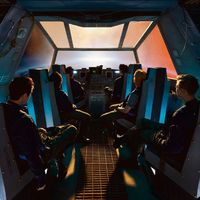 Became a fan of EXO
You can now view more their stories