BLOCK B Zico opened up a Yogorino shop in the center of Hongdae, and we had to go try these delicious Italian yogurt ice creams for ourselves!
The frozen yogurt chain all the way from Italy made its way onto the first Korean soil by opening up their 1st store in Hongdae, Seoul. What made the opening even more special was the fact that BLOCK B's leader and one of the hottest K-Idols, Zico, was behind the grand opening. Zico opened up the store for his father to run back in July 16, 2016. With almost a year since its birth, Kpopmap visited Zico's Yogorino to taste the rapper's frozen yogurt for ourselves.
Must Read : Teaser )) ZICO "She's A Baby" Comeback Photo
If you're ever in the neck of the woods of Hongdae, make sure to stop by for a potential meeting with Zico at his Yogorino Seoul!
Once upon a time, a famous rapper with stunning good looks and an outstanding producing skill, opened up the very first Yogorino in Seoul.
And thus, the Italian forzen yogurt ice cream shop was born!
Nestled right inside the heart of Hongdae, Yogorino is located in 339-1, Seo-gyo dong, Ma-po gu, Seoul, Republic of Korea. In between the trendy boutiques and unique owner-run small restaurants, Yogorino Cafe stands proud and blue at a small intersection.
Inside, you're welcomed to a bright and clean display of all the signature frozen yogurt menus. From very berry fruits, chocolate mountains and a mixture of all, Yogorino's got something for everyone. Not only do they have frozen yogurts, but they also have a spinning gelato bucket and a coffee stand for all of your beverage needs - americanos to sparkling juice.
Make yourself upstairs for a very open sitting area full of bright windows and high ceilings. Sit by the window and people watch, or sit by the booths to study up on your next exams.
Meanwhile, make sure to check out Zico's wall! You can first-hand witness his very own signature and messages. The wall's also decorated with photos of the rapper and celebratory flower monuments that were gifted from his pals, like WINNER, Park Kyung, CN Blue, and more.
So let's get tasting! We went with Zico's recommendation for their bestseller - the Torronechocolate & Strawberry frozen yogurt. The dessert was made as quickly as it was beautiful. The strawberries were a little too mushy, but the frozen chocolate syrup mixing with strawberry juices were so delicious.
Out of 5 stars? 4.5 - only because I prefer fresh strawberries~ 😉
Just like Zico says, "Delicious health~! May everyone eating this be happy!"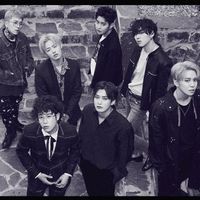 Became a fan of Block B
You can now view more their stories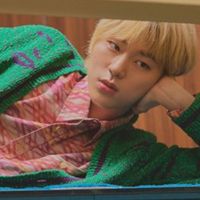 Became a fan of ZICO
You can now view more their stories