This week, Kpopmap visited ChanYeol's pasta restaurant in Seoul for some delicious food served by his dearest mother.
A few weeks back, we visited EXO Kai's cafe located in Gyodae Station. We made a trip out to Gangdong-gu to taste Kai's fellow member, ChanYeol's pasta restaurant. Viva Polo is run by ChanYeol's sweet mom, who decorated the place with the love of his fans. With such loving interior design and delicious food, it definitely tops the charts of must-visit K-Pop locations in Seoul.
Must Read : Made In Korea Thursday: EXO Kai's Cafe in Seoul, "KAMONG"
Are you ready to experience ChanYeol's pasta shop full of love?
ChanYeol opened up a pasta chain shop for his mom to run. ChanYeol's Viva Polo is located right outside MyeongIl Station's Exit 1. Make your way to the side of the building, and you'll be greeted with a narrow hallway that's covered from top to bottom with fan gifted letters, drawings and art.
Address: Seoul, Gangdong-gu, Myeongil 1(il)-dong, Yangjaedaero 1631
After climbing the stairs of ChanYeol x EXO-L love, you'll find yourself in front of a glass door that leads inside. The interior of the restaurant is much like it's grand entrance. Furnished in neat, clean and simple designs, the serving floor is basically ChanYeol-Land.
We sat right next to the balcony window, where we were greeted by ChanYeol's mother herself! If angels exist... ChanYeol's mom was so welcoming, warm and friendly. To accommodate her son's fans, she speaks great English to personally help you order. If you're open and inviting to her personal service, you can hear little stories about ChanYeol.
She actually told us that ChanYeol just texted her, because he was concerned their pet was sick. Cute!
But we're here for the important part - food!
We ordered a bottle of sparkling orange soda. After you order, ChanYeol's mom hands you a bowl of bread that differs according to your order. We went with the new, recommended dish of Creamy Spinach Pasta.
The pasta was just the right amount of pasta-spinach-meat ratio, and the sparkling soda matched well with the heavy cream.
Remember to check out the various signatures that line the wall. From EXO members to his closest friends, ChanYeol's pasta shop is beloved by fans and celebs alike!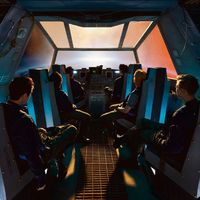 Became a fan of EXO
You can now view more their stories