Just recently on an episode of 'Radio Star', f(x) member Luna appeared as a guest along with former SISTAR member HyoLyn, and MAMAMOOmember Hwasa.
Luna discussed her recent activities as a YouTuber, while also revealing how much she was enjoying it since she was beginning to understand herself better.
"I learn about makeup tips and stream YouTube broadcasts. They're so much fun! I feel like I'm getting to know myself better through them, me by myself in front of a camera and talking by myself."
She also talked about SM Entertainment as well.
"The account is my personal account. SM is perceived as a strict company, especially regarding YouTube activities, but they're not as strict as they're perceived. They encouraged me to show my ahjumma (elderly woman) side, my Luhjumma side."
Oh JeongYeon, added to her statement
"I thought about being a YouTuber, but SM told me that I had to legally share my earnings with them and not to do it on my own."
Luna responded to the comment by saying:
"Actually, we also share the earnings. And SM takes a big chunk! Too much!"
However, Luna also did reveal that her YouTube earnings were most likely going exclusively to her only beginning in August this year.
Read More : Malicious Comments Nearly Drove Hwasa Out Of MAMAMOO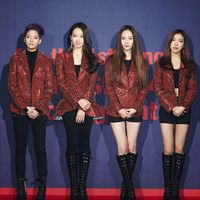 Became a fan of f(x)
You can now view more their stories