DREAMCATCHER successfully finished their first concert in Korea and revealed their official fandom name!
Under Happy Face Entertainment, they first debuted as 'MINX' but changed their name to DREAMCATCHER in 2017 with their debut song 'Nightmare'. The seven-member girl group held their first concert in Seoul <Welcome to the Dream World> on March 10th. It is the final destination of their first world tour "Fly High" started in Japan last year, they gave many performances in Asia but also South America and Europe.
They announced their fandom name on this occasion: "InSomnia" will be the official name. 'Somnia' is the Latin word for 'dreams' and 'in' from English. The fanclub name then means that DREAMCATCHER and their fans will be together at anytime in the dream world.
They performed their songs with a background of fantastical stories. The group also did various unit performances such as YooHyeon and GaHyeon for 'I', JiU and HanDong for 'Trouble Maker', SuA and DaMi for 'Move', and SiYeon alone did 'Faded'.
HanDong and GaHyeon covered Red Velvet's 'Red Flavor' with cuteness and SiYeon and DaMi overloaded with sexiness while doing covering SunMi's 'Gashina'. Lastly, JiU, SuA and YooHyeon danced on the hilarious Celeb Five's 'Celeb Five'.
At the end, they sincerely thanked their fans for being together with them for this first Korean concert.
Read More : DREAMCATCHER 'Fly High' Europe Tour Dates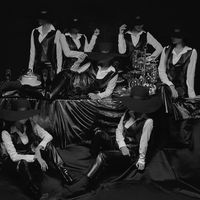 Became a fan of DREAMCATCHER
You can now view more their stories