Just recently after the incidents with ABC's Kendis Gibson and Capital Breakfast's Roman Kemp, it seems that another show host triggered BTS fandom ARMY for mocking their idols.
A Dutch broadcasting show recently introduced BTS member V as the most handsome man in the world, but apparently did it in a mocking way based on how fans have interpreted it. Many people believe that the Dutch show hosts introduced V in the way they did because they had hard feelings from the fact that the K-Pop idol took away the title of most handsome man in the world from Dutch singer Michiel Huisman.
The show, who didn't seem to know who V was at first, assumed that the idol was "a leader of some weird country."
Fans were also displeased by the show hosts using a photo of V that wasn't too flattering when he was being introduced as the most handsome man in the world.
One fan pointed out that in European countries, men with brightly dyed hair wearing lots of makeup isn't considered to be handsome and is often assumed gay, and that the photo was exactly the opposite of what Europeans would consider handsome.
However, another comment writer mockingly stated that there wouldn't be any photos to use since BTS always wear makeup and dye their hair in bright colors.
In addition, one of the hosts also referred to K-Pop as 'gay pop'.
Read More : How K-Pop Aesthetics Captivate Fans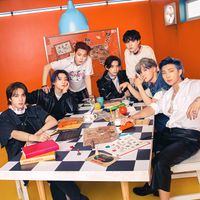 Became a fan of BTS
You can now view more their stories