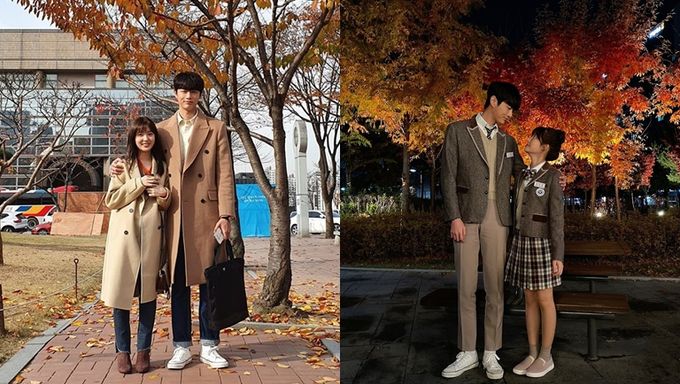 The huge height difference of Jo SooMin & Kang Hui, couple of "Ending Again", caught attention on screen and in behind-the-scene.
Playlist Studio's new web drama "Ending Again" tells the fraud marriage romance of two persons who do not want to marry but decided to get married to get be able to receive the "Newlyweds jeonse loan" [e.g. governmental financial support for newly married couples to help them rent houses]. For more about the drama, don't forget to check our cast and summary here.
Jo SooMin (Cho SuMin), Kang Hui, and Kim GeonWon are the leads of this romantic drama.
Playlist Studio posted on their Facebook eye-catching pictures of Jo SooMin and Kang Hui standing next to each other.
Their height difference is standing out. Kang Hui is tall with his 188cm. The height of Jo SooMin has not been made official. From the picture, she might be around 160cm, making their height difference to be over 25cm.
Have a look at the pictures below.
If you want to watch the drama, you can start with episode 1 below with English subtitles.
Can you also feel their height difference?