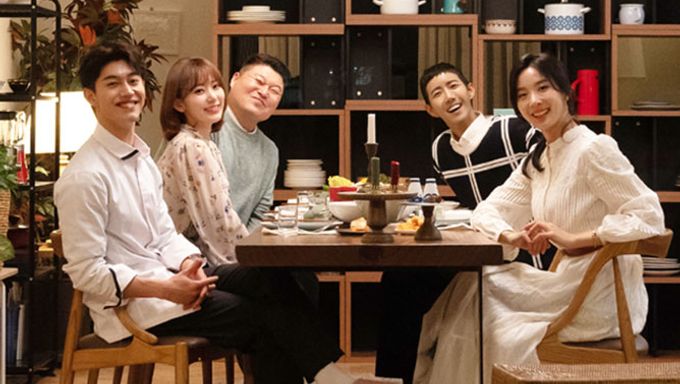 "Everyone's Kitchen" is an entertainment culinary TV show that interests many because of its cast.
This show aired one episode (pilot) back in Dec. 29 and it was decided to be a regular show.
ZE:A KwangHee, actor Kwak DongYeon, IZ*ONE Miyawaki Sakura, Lee ChungAh, and Kang HoDong are part of the cast. Many have high expectations for the upcoming episodes.
KwangHee got discharged from the army and fans are happy to see him back in the entertainment industry. Kwak DongYeon is a rising actor, he recently acted in  "My ID Is Gangnam Beauty", and "My Strange Hero". Miyawaki Sakura is one of the top female idols after she made it in the finalists of "Produce 48". Lee ChungAh is an actress, she previously acted in dramas such as "Flower Boy Ramen Shop" (2011) and "Because This Is The First Life" (2017). Kang HoDong is a popular host and comedian.
SF9's ChaNi was added to the cast as he was not part of the pilot.
Here is more information.
Everyone's Kitchen (2019)
Information
Title: Everyone's Kitchen/moduui jubang/모두의 주방
Genre: Variety TV Program
Director: Park SangHyuk
Writer: -
Network: Olive
Runtime: Sunday 07:40 pm KST
Air Time: From Feb. 24
Language: Korean
Summary
People meet for the first time around a diner. At their first meeting, they cook, eat and talk together. It is on the subject of social dining.
Cast
ZE:A's KwangHee
Actor Kwak DongYeon
IZ*ONE Miyawaki Sakura
SF9's ChaNi
Lee ChungAh
Kang HoDong
Interesting Facts
 Here is one of the teaser.
Here is the poster of the pilot.
Here is a picture of the official Instagram account.
https://www.instagram.com/p/BtxVtMAAJvl/
Read More : "Trend By Me" (2019 TV Show): Cast & Summary