Lee JongSuk has dreamed of opening his cafe for a long time. His dream came true!
Last fall, he finally opened his own cafe. It is a huge coffee shop located in the trendy Garuso-gil street in Seoul. It is named 89 Mansion, it has Instagram and Facebook.
The actor actively participated in the elaboration and decoration of the building as well as the menu. He also learned how to do coffee and the actor appears at the cafe time to time.
https://www.instagram.com/p/BZ9KgzEgF_M/?taken-by=jongsuk0206
He also hints to fans many times and promotes it on his SNS.
https://www.instagram.com/p/BbVObYwg18-/?taken-by=jongsuk0206
Some fans even saw him in the cafe!
Lucky Fan meet JongSuk at
cafe.89mansion 😍😍😍😍

Cr.IG mydan96: "오빠 다리 엄청 길어요!!! 오늘 운이 정말 좋더라 오빠 만났으니 ㅜㅜ @jongsuk0206 #leejongsuk #이종석 #李鍾碩 #イジョンソク #joosukcouple #jongjoo #jongjoocouple #honeycouple pic.twitter.com/b2Ir9ZmrCP

— ⓡⓒⓝⓦⓐⓝⓝ🐥💛🐰 (@rcnwann) April 17, 2018
Outside it looks huge and modern, it has plants and many windows with black, white, and green as main colors.
Inside is well decorated. The first floor is selling beverages and dessert while the second floor is an Italian restaurant.
The menu is diverse you can eat non-Korean foods such as salad, pasta or pizza, and desserts. For beverages, it is diverse too with coffee, tea, soft drink, alcohol, ade etc. Pictures of the food look amazing!
The cafe has gained in popularity. If you have the chance to come to Seoul, you might want to go there, it is nearby Sinsa Station exit 6 or 8. Here is the location on the map.
Read More : G-Dragon's Cafe Sees More Profit After His Enlistment In The Army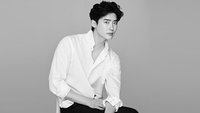 Became a fan of Lee JongSuk
You can now view more their stories