Congratulations on your debut! All of you have prepared so long for this. Tell us how you feel to finally debut?
Thank you very much for congratulating us! At first, it didn't felt real but as we get to perform more on the stage, and meet our fans, it became more realistic! We're so happy that we debuted as Cherry Bullet and our days have been filled with delight ever since! We want to be an artist who can give positive energy to the audience with various charms that we have prepared for them. We are grateful and thankful to everyone who supports us. We will endeavor and will not stop to become better artist as Cherry Bullet!
What is Cherry Bullet?
"Cherry Bullet" means that we will pierce through one's heart with our 'Cherry' like loveliness and charm. Along with our talents, filled with energy that is strong as a 'Bullet'!
The group has a unique concept where each individual member has their own power to develop within the OS called 'Cherry Bullet'. Can you share us more about the concept and what kind of powers does each member have?
Our concept is that each member has special skills and a robot they can ride on in a virtual Operating System called 'Cherry Bullet OS'. With our skills, we have to clear all the given quests and challenges and grow as a team.
HAE YOON

" My specialty is 'Shield'. I am the big sister among the group, so I stand steadfast and protect everyone from any harm's way. "

YU JU

" My specialty is a' Long-range Missile'. It's an ability that once I locate the target, I can make anyone to become a fan of mine no matter how far you are. "

MI RAE

" Mine is 'Happy Virus'. Once the virus is released, people who are exposed by it INEVITABLY becomes happy. It's an ability that cannot be excluded from the group. "

BO RA

" Mine's called 'Magnifying'. I might seem small and petite, but once I am on the stage, my presence 'Magnifies' with a voice that mesmerize the audience. "
Ji Won

" My weapon is a 'Machine Gun'. It's for high speed firing to pierce through everyone's heart with my charm. "

KOKORO

" My specialty is 'Healing'. I am going to heal everyone's heart with my adorable charm! "

Re mI

" Mine is 'Rocket Punch'. I will destroy everything bad in this world with my Rocket Punch! "

CHAE RIN

" I have 'Power Booster'! I want to boost the energy of our audience through my performance! "

LIN LIN

" My special ability is 'Hacking'. Even before you know it I may have already 'Hacked' into your heart, with my charms! ""

MAY

" I have 'X-Ray Vision'! I'll read our fan's mind and make them fall for us! "
What is the meaning behind the debut song, 'Q&A'?
The song is about greeting everyone, saying hello. Like the lyrics in 'Q&A', the message contains that we look forward to meeting you and if there's a question you want to ask, fire it away!
I'm pretty sure everyone had to go through some tough moments until the official debut, tell us one memorable moment that you would like to share during that time.
Being on 'Produce 48' was most memorable for me. Getting to perform in front of the audience with the materials I have prepared and also the part of meeting new friends! I made great memories and brought me great joy into my life!

For me, it was when we were filming 'Insider Channel-Cherry Bullet'. It had greater meaning to me since it was the first time we worked in a program as a group

One day our CEO gathered everyone and said, "From now on, it's going to be the ten of you. Congratulations on your debut. Hope you do your best!". As soon as we heard the news, all of the members hugged and congratulated each other with tears of joy.

The most memorable moment was the filming of the 'Insider Channel-Cherry Bullet' opening. I think the moment when we first said, "Hello, we are Cherry Bullet!" will be engraved in my memories for the rest of my life.
For the first time in my life, I had my experience with wire action during our MV shooting and a bit of my cowardice got the worst of me. I screamed even when the slightest inch was raised. But after a few more practices, I got used to it and it was really fun as it makes you feel like you are flying!

It was when the final members were decided for Cherry Bullet! All 10 of us wanted to debut as a group so we helped and supported each other a lot. We were all thrilled and excited when we heard the news.

I remember when we were practicing for SNSD's 'Into The New World' cover. I was so happy when fans showed lots of love to us after the video was uploaded.

We used to have a group talk, where we openly talk to one another and share our thoughts every Friday. As we shared more and more, we all got closer than ever.

The shooting of 'Insider Channel-Cherry Bullet' before our debut was most memorable. It was my first time being on a show, so it was really amazing and fun!

For me it was when we had our profile pictures uploaded. It was my first picture that will be shared by a lot of people and it was also the first time where someone would have interest in me. I remember that I was half worried and half thrilled.
YU JU and BO RA had appeared in BTS's LOVE YOURSELF Highlight Reel, can you share us that moment?
It was previous to our debut but it was such an honor to be featured in worldly renowned and respected BTS Sunbae's(Senior idols) LOVE YOURSELF Highlight Reel! Everything was a first so I was very nervous but BTS members were so nice and kind to us. Also, the two of us were there together so it was really fun!
Who is your favorite pop artist?
I love Ariana Grande! She has enormous energy and I want to be a singer just like her!

I listen to Charlie Puth's music the most!

My favorite artists are Beyoncé, Jessie J, and Ariana Grande. They are all great singers and have their own color. I have so much to learn from them. I too want to become a singer that has such influence like them.

There are too many international artists that I respect and enjoy listening to! I want to absorb all the greatness of those artists and become a great artist myself!
I admire Beyoncé and Ariana Grande the most!

Mine is Fifth Harmony.

For me, it's Michael Jackson. He was such a great dancer with great stage performances and above all, he has his own distinctive ambiance.

I love Beyoncé! She sings and dances at the same time without getting winded and she still pushes hard and I think the world acknowledges that.

My fav artist is Avril Lavigne. I loved her ever since I was little. I love her style, her song, everything!

It's hard for me to answer since I love K-Pop the most. Well since I'm from Japan and that makes K-pop international music, can I pick MOMOLAND? I became a fan right away when I saw them perform! lol
There are four foreign members in Cherry Bullet. What made you fall in love with K-Pop?
I fell for the songs and performance! The more I see the stage, deeper I fell for K-Pop. I think it's in that powerful performance!

There is an enormous amount of talented K-Pop idol Sunbaes and the performance they showed around the world was so great. That made me fall in love with K-Pop.

K-Pop has various style in music. I wanted to be as professional and great as many K-Pop idol Sunbaes.

K-Pop's unique addictiveness, awesome performances, and KalGunMu(synchronized choreography), the effort they put in, and the way they shine during performances, I love it all!
Even before the debut, Cherry Bullet has attracted a lot of attention amongst global K-Pop fans. If Cherry Bullet was to do a concert overseas, where do you want to go? And why?
We are grateful for the interest even though it's only been a little while since our debut. After we have our solo concert in Korea, we want to gradually meet our fans around the world! Where we want to go is not important for us. We want to bring joy to everyone who supports us and gives us a precious opportunity to perform. However, it would be very meaningful if we get to perform in cities of our foreign member's home town.
Your fans from other countries visited Korea for the first time! What kind of food would you recommend that can only be available in Korea?
I would recommend Tteokbokki(stir-fried spicy rice cakes). It's so good so please try'em!

Any dishes with rice cake in it. If you like something spicy, that would be Tteokbokki, if spicy food is not for you? Then Tteokkochi(rice cake skewers) would be great!

Busan's famous Daeji Gukbap(Pork Soup With Rice)! You HAVE to try it in Busan! Deep brewed meat broth and the meat itself…It's just amazing! Also, if you put Ssamjang sauce(spicy dipping sauce) on your pork, it gets even better!

I hope you try Bibimbap, a Korean traditional dish. Various ingredients are mixed into one and creates a new taste with perfect harmony. The dish also reminds me of our group Cherry Bullet, as we are also a group of individuals with different charms mixed into one for perfect harmony.

I would like to recommend what I normally love to eat! Kimchi! Tteokbokki! Seolleongtang(ox bone broth soup)!

Mine's also Tteokbokki! It's one of my favorite Korean food and it's definitely for people who enjoy spicy food!

Jajangmyeon(Korean-Chinese noodle) is my favorite! I had this right after my audition in Korea and it was SO GOOD! So whenever anyone asks me what my favorite dish in Korea is, Jajangmyeon always comes first in my mind.

I would recommend Korean Street food such as Tteokbokki, Sundae(sausage), Twigim(Assorted Korean tempura), and Oden. I love the taste and the ambiance of eating right beside the streets.

Samgyetang(ginseng chicken soup) is my recommendation. I had my first Samgyetang when I first came to Korea with my mum. It reminds me of that precious time and above all, it's very tasty so I hope our international fans would try it as well!

Korean Fried-Chicken! That's my favorite food. When I had my first bite in Korea, I was shocked by the fact that I didn't know such delicious food existed in this world! I want people to experience the same happiness that I have experienced.
With the concept of the group being based on games, whom among the member is a gamer? And which game do they enjoy to play?
All of the members enjoy playing games but YU JU and LIN LIN especially, are game lovers.
I used to play a lot of PC games but I haven't played for a while.

I think each member have different taste in gaming. I mostly enjoy shooting games, while CHAE RIN and BO RA Unni enjoy board games with cute characters and designs.
Which show would you like to be guest on the most?

I want to be on 'Running Man' with all of us. We'll do our best so I hope they give us a chance!

Like HAE YOON, it's 'Running Man' for me as well. I've been a fan of the show for a long time

Any show where the whole members can be in such as, 'Idol Room' and 'Men on a Mission'!

I would like to be in 'Idol Room'! It looked really fun when I saw other Sunbaes in the show!

'Running Man'! It's the most famous Korean show in the town I come from, so I really want to be in it.

As a group, "Running Man', 'Idol Room' and 'Men on a Mission'. Personally, I want to sing in 'King of Mask Singer'!

I want to be on 'Idol Room' and 'Running Man'.

'Idol Room' would be great for all the members to show our talents!

I want to be on 'Idol Room'. It's a show I enjoy watching while I study my Korean.

For me, it's 'Idol Room' and 'Men on a Mission'. Whenever I see the show, I think to myself that it would be nice if Cherry Bullet can be in the show.
Who had the strongest first impression and why?
For me it was RE MI! I think it was because she was the first foreign trainee I have ever seen.

It was KOKORO. I went to the office like any other day and I saw this girl(KOKORO) and I was surprised because she had such big pretty eyes.

I remember when I met LIN LIN for the first time. I was impressed by her big bright eyes.

I will pick YU JU! Her eyes were too cute!

KOKORO made the biggest impression for me. She reminded me of a Strawberry Milk and I loved her cute smile.

I choose LIN LIN! She has a cute face, cat-like pretty eyes, and she also has this exotic charm.

JI WON Unni has a perfect idol image from my point of view. She's so pretty.

YU JU was the first trainee I met at FNC and I was in awe when I first saw her because she was so beautiful.

KOKORO was the first person I met when got to Korea. We lived together when we were trainees and she helped me a lot when I had trouble with the Korean language. She is so kind and I love her!

When I first saw HAE YOON, she was wearing a pink shirt holding a cup of coffee on her hand. She was very pretty and fashionable.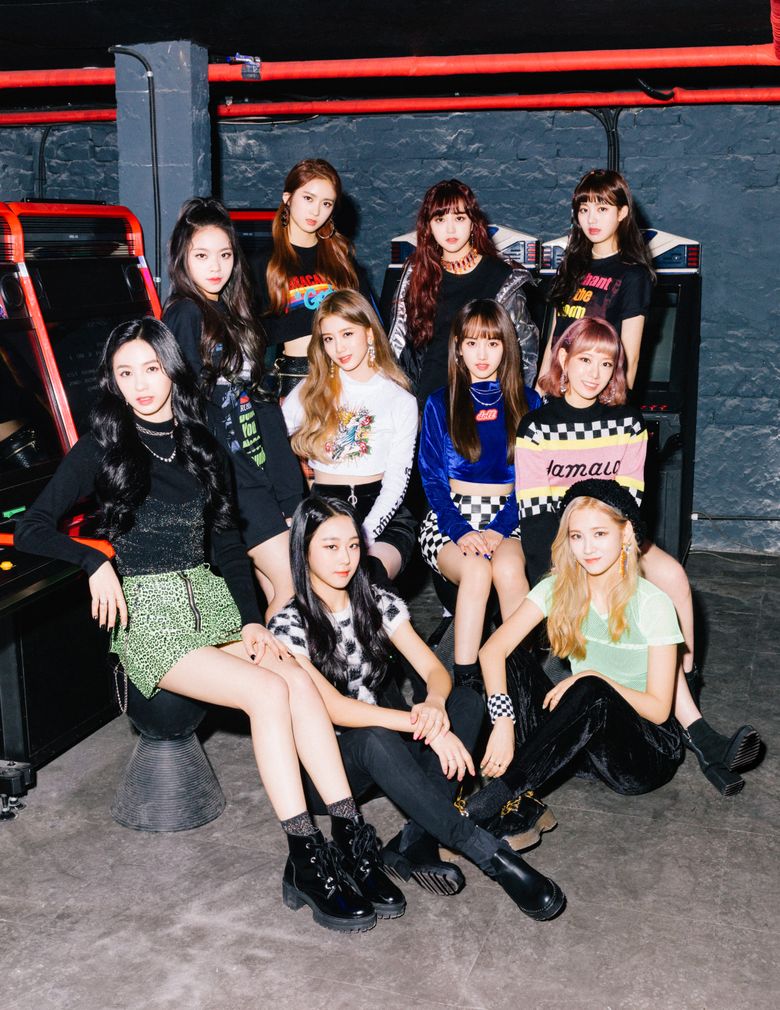 Cherry Bullet has debuted on the first month of 2019! Is there anything you would like to achieve this year?
Our goal in 2019, is to perform with great albums, make great impressions to the public and be loved by everyone. If possible, we hope to win 'Shinin Sang (New Artist/Rookie of the Year)' this year since it can only be won once in your lifetime!
Anything you would like to add to your global fans?
Hello, global fans around the world! We thank you so much for your love and interest! Physically, we may be in distance, but never in heart. You know that right? We will work hard so that we can see each other as soon as possible! We hope you look forward to meeting us as well! We will be the group that can return your love and support and fills you with our loveliness and exciting energy! Thank you for supporting us! We love you!