The revamped girl group called Dreamcatcher are here to showcase their brand new 2nd single album.
Dreamcatcher debuted this past year, and they're already back with a 2nd single album for their awaiting fans. The seven girls held a special showcase to celebrate their newly released album, titled "Nightmare – Fall Asleep in the Mirror". In a series of performances, a photo time to introduce their new concept, as well as an indepth interview about everything dealing with their new album, Dreamcatcher were more than prepared to enter the comeback war of April 2017.
Must Read : Teaser )) Dreamcatcher – Good Night #3
Don't miss out on the special moments of Dreamcatcher's latest showcase!
Dreamcatcher's "GOOD NIGHT" Showcase
Brought to you by your friends at Kpopmap.
1. GOOD NIGHT LULLABY
As the highlight of the celebratory showcase, Dreamcatcher performed a total of two songs from their new single album. The girls opened up the night with a soft ballad titled 'Lullaby'. As their closing performance, the girls put on a stunning performance for their title track, 'GOOD NIGHT'.
2. GOOD FUTURE
Just before the girls got ready to put on their title track performance, the eldest JiU and maknae GaHyeon put on a small skit to introduce their new song. The two girls expressed their hopes and dreams to become MCs for a music show, and honestly, it was just so adorable!
3. GOOD COLORS
Dreamcatcher's visual concepts are definitely popping with power! Out from underneath all the dark and frightening color concepts, JiU and YooHyeon were popping with vibrant colors. JiU had streaks of violet-pink, while YooHyeon had a fierce hot-red ombre.
4. GOOD MINDSET
Besides the two girls' popping hair colors, Handong's knee cast was an eye-catching sight. She revealed that while they were practicing for their comeback, she had knee problems. When her members would tell her to rest while they shot the music video with a body-double, Handong insisted that she will do her best to participate. In the end, she withheld her pain and successfully finished filming their MV.
5. GOOD GAMERS
Many fans will probably know that Dreamcatcher's songs are easily compared to OST of games or anime. When asked how they felt about it, YooHyeon revealed that she is a big gamer, so she loves the possibility that their songs could be used for a game. She posed for the crowd in a fierce stance to showcase her talent in game-modeling.
6. GOOD MINX
It's official - Dreamcatcher are better known as they are now than when they were promoting as MINX. With the newfound rise to success, JiU revealed the main difference between her MINX days and Dreamcatcher days were the facial expressions. Check out JiU's expression change of MINX vs Dreamcatcher!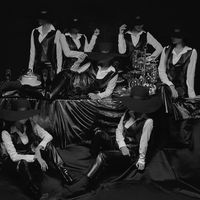 Became a fan of DREAMCATCHER
You can now view more their stories