4 of the 5 legendary girl group, EXID are back with their 3rd mini-album with a special comeback showcase.
EXID held a special showcase to celebrate their 'Night Rather Than Day' comeback stage. The girls are back with a brand new album titled "Eclipse". Although they're missing their main vocalist, SolJi, the four ladies have comprised their new album with impressive new genres, experimental styles and more. The showcase was held on April 10th at the Blue Square in Seoul. They performed their new title track, showcased their brand new concept, and gave us an in depth detail about their new album.
Must Read : MV )) EXID – Night Rather Than Day
Kpopmap brings you all the exclusive moments of EXID's 'Night Rather Than Day' showcase just for the LEGGOs!
EXID's "Night Rather Than Day" Comeback Stage
Brought to you by your friends at Kpopmap.
 1. NIGHT RATHER THAN DAY
The highlight of the night was when the four girls of EXID took the stage to perform their new title track for the first time. Their 'Night Rather Than Day' comeback stage was a sight to see as the girls took on a whole new concept and genre in the most EXID-way possible. With their signature catchy choreography and incredible live vocals, the new mini-album will surely be topping charts real soon.
2. JUNGHWA RATHER THAN DAY
JungHwa is the main dancer of the group, as well as the happy virus that keeps EXID bright and youthful as always. She showcased the main dance points of their new title track. From sweet, lively and sexy, JungHwa's dance moves were always a sight to see.
3. COLOR RATHER THAN DAY
One of the most exciting changes to the girls' new album was their concept change. Dressed in vibrantly colored suits, each of the members donned a whole new styling. LE was the fierce unnie in tight braids and a hot red suit. HyeRin was cute and trendy in an emerald bob and a lavender suit. Hani was lovely in her long brown extensions and a turquoise suit. Lastly, JungHwa was fun and spontaneous in a light orange hair and lime green suit.
4. HANI RATHER THAN DAY
Among every of the girls' new changes, one thing never changed. Hani was the visual member for a reason. Besides the fact that she's absolutely gorgeous, she's a treasure trove of expressions. She's fun at times, sweet at times, dorky at times and everything in between. But what kind of Hani do we love most? The signature Sexy Hani, of course!
5. COMPOSING RATHER THAN DAY
The group's main producer, LE, revealed that she had to challenge herself with the absence of SolJi. SolJi was the powerhouse of the group, belting out notes like no other. Without SolJi's power, LE decided to test her group and herself in a new genre. She revealed that she was most worried about HyeRin, who was a great ballad singer that had a difficult time keeping beats. But to her pleasant surprise, HyeRin was the member who was able to finish her recordings in just a few takes!
6. LE RATHER THAN DAY
On the topic of composing, LE was asked how she's accumulated in wealth over the years with EXID's extensive list of hit songs. LE revealed that she was blessed enough to earn so much love and support from the public. Hani kicked in to reveal that LE made the most through their songs, but she spent the most in giving back to the group. Hani gave us an inside scoop that LE would almost always pay for their meals in secret.
7. EXID RATHER THAN DAY
Although the girls are back as only 4 members for now, the girls revealed that they had originally recorded another title song with their main vocalist, SolJi. As they wait for their member to recover from her health, they promised to work hard and make SolJi proud. JungHwa also added in that they hope to be back soon as 5 members and perform the intended title track all together.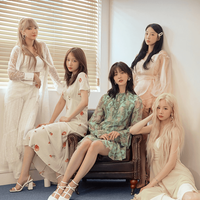 Became a fan of EXID
You can now view more their stories