Kpopmap covers the exclusive moments of OH MY GIRL's comeback showcase for their new album, "Coloring Book".
OH MY GIRL just returned with their 4th mini-album titled "Coloring Book". To celebrate their long awaited return, the girls hosted a special showcase where they introduced their new album and their future promotional plans. In a series of stunning performances, a photo time, and an in-depth interview, OH MY GIRL is ready to return to stage as 7 members for the first time ever. Although JinE was unable to participate with the girls, OH MY GIRL vows to share more special moments with their Miracles in stead for their healing member.
Must Read : MV )) OH MY GIRL – Coloring Book
Here are the exclusive moments of the showcase that we think Miracles will totally love about the girls' new comeback!
OH MY GIRL's "Coloring Book" Showcase
Brought to you by your friends at Kpopmap.
1. OH MY SONG BOOK
The seven OH MY GIRL members performed a series of three stages for their showcase celebration. The girls opened up with their title track, 'Coloring Book', continued with a soft ballad called 'In My Dreams' and closed out the night with 'Perfect Day'.
2. OH MY EXPRESSION BOOK
The night was all about giggles and laughter as the girls are known to be the epitome of cute, vibrant girly-girls. Even so, SeungHee and HyoJung's remarkably refreshing and various expressions had us in smiles all throughout the night.
3. OH MY DANCING BOOK
The visual member of OMG, YooA, took the stage to showcase the group's new main dance points of their title track. 'Coloring Book' features three focus choreography that's all cute, lovely and even sexy!
4. OH MY GROWING BOOK
One of the things that we noticed was that ARin grew taller since the last time we'd seen her! The maknae of the group was asked to compare heights with the tallest unnie, JiHo. Although JiHo was deemed to still be the tallest member, ARin vowed to grow up to 170 cm!
5. OH MY MAKNAE BOOK
Although ARin is now the second tallest in the group, she will always be the precious maknae. During the photo time, ARin was a lost child as she didn't know where to stand. Charismatic unnie, Mimi came to the rescue by helping the maknae in the right direction.
6. OH MY GIRL BOOK
To close out the night, the girls were asked to pose in a free-for-all pose. Usually the idols have a set group pose planned, but the OH MY GIRLs showed off their diverse characteristics in 7 different poses that perfectly summarized each members' personalities.
Love ya, OMG! Congratulations on your 4th mini-album comeback~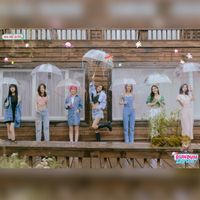 Became a fan of OH MY GIRL
You can now view more their stories