The SF9 boy are back with their brand "Easy Love" comeback, and Kpopmap captured all of the exclusive moments from their showcase.
SF9 are the first and only dance boy group to debut out of FNC Entertainment, so of course the amount of love and support that they receive is out of this world! Along with the love comes high expectations and detailed critics, but the boys didn't fail in providing us with one of the hottest comebacks of the year. To better introduce their brand new album, SF9 held a showcase to perform two of their new songs, show off their new concept, and answer some of the most curious questions.
Must Read : MV )) SF9 – Easy Love
Let's talk about everything you shouldn't miss from the boys' new comeback stage!
SF9's "Easy Love" Comeback Stage Showcase
Brought to you by your friends at Kpopmap.
1. SF9's Easy Performance Skills
Talk about energy on energy! SF9 performed two of their newest songs off of their 2nd min-album, "Breaking Sensation". The boys opened up the night with a performance of their new title track, 'Easy Love' and the continued on to perform their equally addictive sub-track, 'Watch Out'. From every little angle to each members' facial expressions - spot on!
2. SF9's Easy Moves to Follow
If you've got new moves, you got the main ones that were made to be followed. TaeYang and ChaNi, who are the members in charge of dance, got up to showcase two of their new dance point moves. The first was one where they 'blow through the wind', and the other is called the 'sad exposed back'.
3. RoWoon's Easy Skills of Looking Good
You just can't look away from RoWoon's stunning features. Not only is his stature so tall and bold, his face is perfectly chiseled to resemble a modern day Greek statue. RoWoon was a total monster on stage with his cool swag, but off stage, he was the perfect gentleman who answered each question thoroughly. Basically, he was just sexy from start to finish without even trying.
4. DaWon's Easy Way of Falling in Love
If RoWoon caught our eyes with his visuals, DaWon stole the night with his witty comments and hilarious gestures. DaWon was praised by his members for being the most witty character that brightens up the room. Thanks to his hard work on a cooking show program, SF9 shot to the top on real time search charts. The members thanked DaWon for working so hard, being charismatic on stage and hilariously appealing off stage.
5. SF9's Easy Life Thanks to FNC Seniors
SF9 were donning matching in-ear monitors tonight, and the boys revealed that they were a present from their FNC senior, Lee HongGi of FT Island. The rookie boys had to share in-ear pieces, because they kept losing or breaking them, but now that they have their individual ones, the boys said they each take better care of their technology. The left side is a black piece with the words SF9 engraved in them, and the right side is white with the name of the member it belong to.
6. SF9's Easy Love
It's SF9's 2nd comeback since their debut 6 months ago, and the boys are back in grey and white school uniforms! The audience pointed out that popular boy groups like EXO and BTS had also gone through the similar concept. The SF9 members thanked them for comparing their group to such big legends. Although their outfits may seem similar, SF9 vowed to show their fans and the public that SF9 has their own style and will continue to grow with each and every comeback.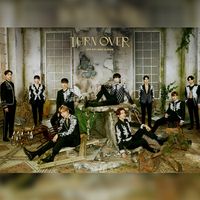 Became a fan of SF9
You can now view more their stories