We've got all the exclusive moments you can't miss from TWICE's showcase featuring their "SIGNAL" comeback stage!
TWICE is here to make a flash comeback with their 4th mini-album, "SIGNAL". The 9 youngest ladies of JYP have been making hits after hits since their debut, and the girls are here to continue on their hot streak. TWICE is all set to make their official Japanese debut in June, but the girls wanted to say a quick goodbye to their Korean fans before they headed overseas for the next couple of months. For the next two weeks, TWICE will be promoting their new "SIGNAL" album, before they make history in the J-Pop market!
Must Read : Teaser )) TWICE "Signal" M/V Teaser
Get the complete coverage of the exclusive moments that you must read about TWICE's "SIGNAL" comeback stage showcase.
TWICE's "SIGNAL" Comeback Stage Showcase
Brought to you by your friends at Kpopmap.
1. SIGNALLING FLASHBACK
Throwback... Monday? TWICE opened up their night with two special performances. From "TT" to "KNOCK KNOCK", the girls reminded us of why they were considered the hottest girl group around. Just watching the special stages, we couldn't help but be mesmerized by each of the little gestures that the girls performed on stage. We've seen the girls perform these hit tracks numerous of times, but the girls' bright and vibrant energy gives each performance a brand new feeling.
2. SIGNALLING SIGNAL
The moment that we've all been waiting for! TWICE debuted their first comeback stage for 'SIGNAL' at the showcase tonight, and... well, the girls' hot streak continues once more! Instead of their iconic producer, Black Eyed Pilseung, TWICE has joined hands with their label CEO, Park JinYoung. As the first title song to be produced by their CEO, netizens all worried about the outcome - but they can put their worries to rest. 'SIGNAL' is a definite hit with catchy tunes and another mesmerizing choreography that'll be easy to follow. We think ONCE will have a grand time counting how many different types of hearts the girls throw our way!
3. SIGNALLING SUPER POWERS
One of the key concepts of TWICE's new comeback is the girls' individual super powers! Each of the members were designated a special power that can be seen on their concept photos, as well as all throughout their music video. Mina has the power of hypnosis, JungYeon has the power to stop time, Tzuyu has super strength, DaHyun can multiply, NaYeon can erase memory, ChaeYeon has telekinesis powers, Momo has super speed, Sana has invisibility, and JiHyo has X-Ray vision! But what's funny is that DaHyun revealed that the 
4. SIGNALLING PRETTY GIRLS
Pretty girl next to pretty girl next to pretty girl. That's one of the nicknames TWICE has earned for themselves. During the showcase, the girls held a special time for photos. The members lined up dressed in matching concepts of preppy navy school--look outfits. Well, their nickname is true, because each of the members were so pretty that they can all be considered visual members. If it were possible, we'd love to have a direct fan cam focused on each of the members!
5. SIGNALLING DIFFERENCES
Since their debut, the girls partnered up with Black Eyed Pilseung for each of their songs. However, the girls are back with a brand new producer - JYP! When asked what other differences there were between their previous hit songs and their latest 'SIGNAL', the girls revealed that the girls challenged themselves at a more powerful concept. Although they've maintained the lovely image for "SIGNAL", their new title has a hip-hop background to it that they've never tried before. To go along with the hip-hop beat, the girls changed up their choreography to a more powerful routine with bigger motions. Lastly, JungYeon added that it's their first song to have the signature whisper, "JYP".
6. SIGNALLING HEARING POWERS
It appears that the girls were lacking one super power that was very necessary for tonight's show. With the influx of guests that attended the night, some of the reporters had to sit on the second floor. Since such a large outcome was unexpected, no mics were prepared for the 2nd floor. But thanks to this one fact, we were able to see one of the cutest sights of the night! When a 2nd floor reporter tried to shout his question down to the girls, the girls were unable to hear very well. So with eyes wide and ears on alert, the girls took out their earpieces and leaned in as far as they can to hear the question.
7. SIGNALLING CHAEHYO
Turns out the girls are growing not just as idols, but also as artists! For their new album, some of the girls have tried their hands at writing lyrics! Among the 6 new songs, ChaeYoung and JiHyo are listed as the lyricists for 'Eyes Eyes Eyes'. JiHyo revealed that ChaeYoung and she took small times in between promotions and preparing for their Japanese album to brainstorm and build on their first lyrics. ChaeYoung also thanked their PD for giving them a quick 'OK' for their lyrics. They expressed that they hope their fans will enjoy their thoughts and minds that they put behind the lyrics.
8. SIGNALLING EVERYONE
To close the night, TWICE commented on their popularity. They expressed that they were so grateful for the overwhelming love and success that they received from their fans and the public. The girls' songs can be heard all over the streets of Seoul, and fans from elementary school to grown adults all follow and love their songs. With such high expectations, NaYeon expressed their hope that their fans will love "SIGNAL" just as much as they did the other songs. Sana adorably added at the end, "We hope that we'll be able to hear 'SIGNAL' just as much as well."
[Unboxing] TWICE (트와이스) 4th Mini Album "SIGNAL (시그널)" Unboxing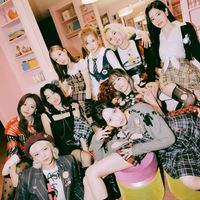 Became a fan of TWICE
You can now view more their stories