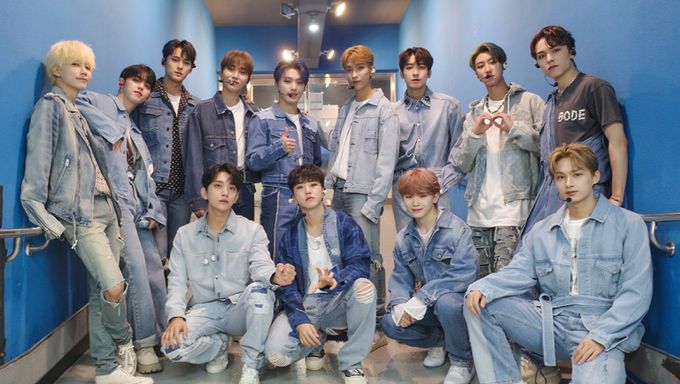 STORY BY
Courtney Cobb
Kpopmap Contributor
Many fans from around the world took a trip to SEVENTEEN's CARAT LAND. On Sunday (or Saturday, depending on where you were in the world), S.Coups, JeongHan, Joshua, Jun, Hoshi, WonWoo, WooZi, DK, MinGyu, THE8, SeungKwan, Vernon, and Dino treated their fans to a 4 hour fan meeting full of songs, games, and hilarious skits.
Due to the increased restrictions here in Korea, SEVENTEEN's planned offline fan meeting at Jamsil Stadium was switched to being all online. They were sad that they had to make the switch, but that didn't stop them from rocking out and connecting with their fans.
CARAT LAND began with an incredible performance of SEVENTEEN's song 'Ready to Love'. The performance gave me small town America in the 1950's or 60's vibes with visuals of diners, storefronts, and lights. Their denim ensembles they wore were the perfect touch.
After their performance, they all introduced themselves one by one. The fans went wild as each of their biases introduced themselves. As it was S.Coups' birthday, all the bandmates sang him happy birthday and CARAT tuning in online sent him well wishes through the chat messenger. Immediately following that, Hoshi asked CARAT, "What time is it?" Then there was a flurry of messages in the chat that read "10시 10분" [meaning 10:10pm]. At the end of the introductions, SEVENTEEN demonstrated to CARAT their chant, "Seventeen" *clap clap*and saying "CARAT LAND" as you wave your hands. They showed so much love to their fandom throughout the course of the fan meeting. No wonder they have so many devoted fans around the world!
They performed their next song, 'Heaven's Cloud'. They looked ethereal sitting and singing amongst pink and blue clouds and rainbows in a sweet performance with soft, gentle melodic voices. Games and skits followed immediately after 'Heaven's Cloud'.
They started off with a segment called Bittersweet Talk. This was a great way for fans to get to know each of the members of SEVENTEEN in a deeper way through series of "bitter" and "sweet" questions. Beginning with S.Coups, each member would pick a fellow bandmate's name out of a box at random. He would then proceed to choose between asking a "sweet" question or a "bitter" question. Some of the "bitter" questions were questions such as "When did he look the most pitiful?" and "What's a habit you wish he fixes?" One of the "sweet" questions was "Have you recently had a big laugh because of him?" After those series of questions and answers, SEVENTEEN had a special treat for their fans.
Next, they played a video of each of the members in different real-life settings. Some of the members in an office, at a coffee shop, at a bar, cooking at home, a car ride, and camping. With them lovingly looking at the camera, along with the camera angles, the viewer could feel like they were right there with them, sharing those moments in real time. These series of videos ended with everyone sitting in a pink, green, and yellow house, on FaceTime.
When the call starts, they launch into their next couple of songs, '아쩌나 (Oh My!)' and '예쁘다 (Pretty U)'. Their performances were very colorful, interactive, and featured lots of confetti.
[17'S 도겸] 예쩌나 비하인드🙂 pic.twitter.com/ItsudluBbr

— 세븐틴(SEVENTEEN) (@pledis_17) August 10, 2021
The games segment followed these performances. They did team matches between their units. The winning unit would get a special effect ticket that they can use in their following performances. Dino was the MC for the games.
The first game was the Sentence Puzzle game. During the Sentence Puzzle game, the sentences are divided up like puzzle pieces on a board. They had to answer quickly and loudly as to what the sentence was and then do as it said by acting it out.
Their second game was fun to watch and was interactive. The entire group were given song lyrics where only the initial consonants where shown. They had to correctly guess which song it is and accurately do the corresponding dance. Whichever unit did it correctly won the round.
Next, they had yet another treat for CARAT—What on Earth. What on Earth was a skit that included all the members showing off their acting prowess and eliciting many laughs from their fans online. After the skit, SEVENTEEN launched into a series of amazing unit and whole group performances of 'Chocolate', 'Lilili Yabbay', 'Check In', 'Anyone', and 'Love Letter'. After giving their thanks and leaving CARAT with some last parting words, they performed 'Our Dawn is Brighter Than Day' and finished the fan meeting with their hit song, 'Holiday'.
SEVENTEEN's CARAT LAND was an awesome fan meeting to experience! Seeing the love they have for their fans, it is easy to see why CARAT (virtually) came out to spend four hours with the thirteen bandmates that they adore.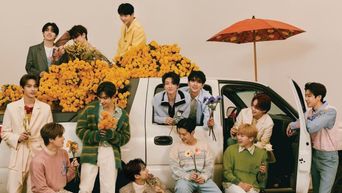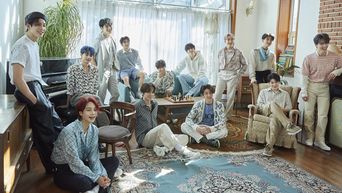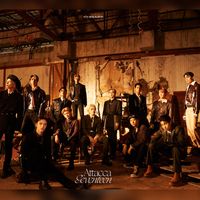 Became a fan of SEVENTEEN
You can now view more their stories