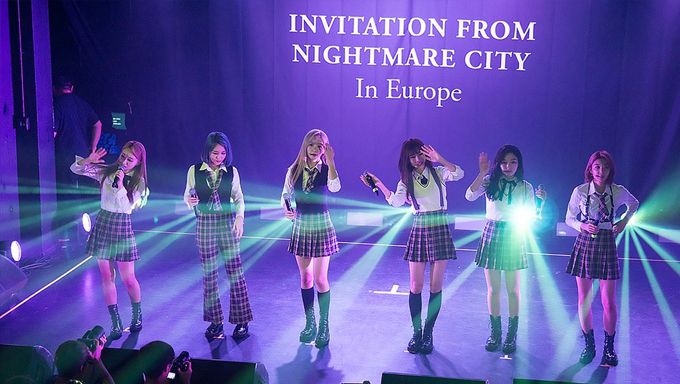 STORY BY
Eftychia Lianeri
Kpopmap Contributor
DREAMCATCHER opened their European tour in London on the intimate venue ULU live.
Entering the empty venue in central London, as press, had the chance to witness the six (otherwise seven but HanDong will be unable to attend the European leg of the tour due to schedule conflicts) members of DREAMCATCHER practising. JiU, SuA, SiYeon, YooHyeon, DaMi, GaHyeon were entirely concentrated and in sync as their team swiftly tried to resolve some technical issues that set back the show for an hour.
Fans withstood the rain and cold; and when it was time to enter, they rushed inside with their adrenaline pumping through their bodies and spirits high.
Forget what you knew about K-Pop, DREAMCATCHER is a group all about contrast, and they are here to change the game! The instrumentals of their title songs could easily be mistaken for a purely Gothic rock band.
However, DREAMCATCHER is a group of 7 girls with pure girly vocals and matching visuals. In 2017 they started releasing a series of singles and EP's as part of their 'Nightmare' series. With full confidence in their rock guitar-heavy sound, they found their niche that is slowly but steadily helping them gain a dedicated fanbase.
In the sold-out ULU live the six artists started their show by apologising sincerely for the delay, while fans were chanting their name and supporting them full-heartedly. Opening with 'Fly High' they filled the venue with their energy dancing in unison and with charisma.
Despite their dedication to their rock sound, they didn't shy away from their native country's favourite genre of music, softer ballads. They performed them with their own spin, fitting them perfectly with the rest of the set. Their vocal ability must be noted here they sang impressively with smooth and stable vocals.
In between performances a life-size HanDong cut out made it into the stage, and it was not only acknowledged by the girls, but they utilised it to its full potential making it "sing" the absents members parts.
DREAMCATCHER looked like they are genuinely enjoying what they were doing and their relatively newly found international success. Member JiU enthusiastically admitted that she was proud and happy looking at a sold-out venue while comparing it to last years' attendance. 'You and I', 'Deja Vu' and 'Chase Me', their authentic rock songs, showcase their ground-breaking mix of K-Pop visuals, choreography and rock music.
Fans and members did not disappoint. An almost symbiotic relationship blossomed that night, the more passion DREAMCATCHER put into their performance, the more the fans expressed their love and adoration to the group. There was even a marriage proposal directed towards member SuA. The creative fan delivered her a bouquet of flower and gave her a ring, which she proudly wore.
The cover performances 'Havana', 'TT', 'Sayonara Hitori' (a personal favourite), 'Bad Boy', showed their versatility and gave us a glimmer of what more they could deliver.
With not even a single disappointing performance and a show that, even despite the delay, flowed so naturally I could say this has been one of the most enjoyable K-pop shows organised in the English capital. As DREAMCATCHER promised they will come back soon. We only hope that next time they could pick a larger venue to accommodate even more fans and a larger stage for the group to show their true potential.
Read More : Exclusive Photos: DREAMCATCHER "Invitation from Nightmare City" In London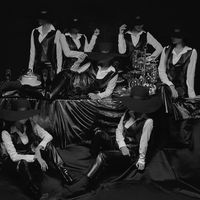 Became a fan of DREAMCATCHER
You can now view more their stories