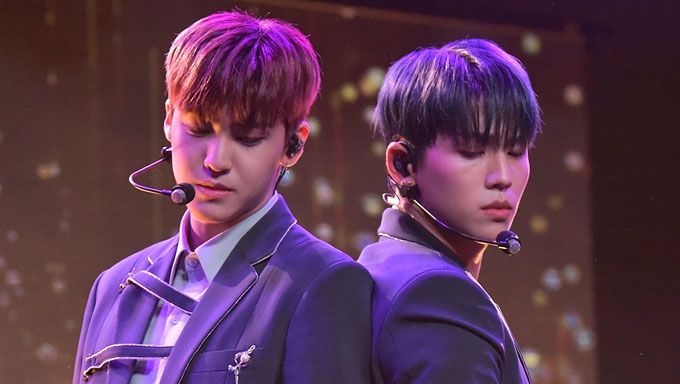 B.O.Y (Best Of You/B of You) had been teasing Meet You (fans) since December 2019 with their upcoming debut. It is finally happening with the release of their 1st Mini Album "Phase One: YOU" and double title tracks 'My Angel' and 'Clockwise' to be released on Jan. 7, 12 PM (KST).
Kpopmap was invited to their showcase held on Jan. 6 and we were able to see that the two boys were ready for a new start.
KookHeon and YuVin pre-debuted with this duo group B.O.Y on Aug. 24, 2019, with 'Blurry'. You would remember that both of them were members of the group MYTEEN which disbanded on Aug. 21, 2019. (Song) YuVin and (Kim) KookHeon gained more recognition for their skills with their participation in the popular survival show "Produce X 101".
Many have been looking forward to B.O.Y debut with this five-tracks album which all have a choreography. The two boys have been already promoting on various music shows showing a powerful and a soft side of B.O.Y. With 'My Angel', KookHeon and YuVin catch attention with stage presence, powerful dance, and high notes.
Aside from the title tracks, Meet You should be especially looking forward to the song 'Starlight' for which KookHeon and YuVin participated in the lyrics and YuVin participated in the composition. Moreover, the song 'Lighthouse' is a fan song to express their love for their fans.
For this album, B.O.Y worked with renown producers such as Tenzo (who worked with Wanna One and IZ*ONE) and Seo WonJin (who worked with ZionT and TaeYang). For the choreography of 'My Angel', it was made by choreographer Choi YoungJun who they met in "Produce X 101".
KookHeon and YuVin greeted the reporters in dashing suits. Don't forget to check our exclusive HD photos here.
With this 2nd debut for KookHeon and 3rd for YuVin, B.O.Y was asked how do they feel about this new start.
I am excited. It is a new start. I am only thinking to work hard.
YuVin
With our past experience, we will become singers that grow even cooler.
KookHeon
Can you explain the meaning of the album title "Phase One: YOU"?
The 'Phase' series is showing our world. We will have a phase one, two, three, ... gradually in the future to show you all of our different sides.
YuVin
How did you find the song 'My Angel' when you first listen to it?
It really loved it. I listen to other songs and I like it the best. It is like destiny.
KookHeon
How was the dance for 'My Angel'?
The first day, when we learned the dance, it was very hard and we got scolded by (teacher) Choi YoungJun. He even told us that it was the hardest dance that he ever made.
YuVin
The duo also showed the point dance of 'My Angel' which is opening the angel's wings in and out.
With "Produce X 101" and the disband of MYTEEN, the last two years were not beautiful for the two of you. You come to stand in front of the public with a new name. How are you feeling?
I got closer to KookHeon during Produce. I wanted to be a team with him because he is like a real brother. There had been adversity and hardships but we will start anew from it. I am not feeling burdened or anything negative.
YuVin
I was worried about this new debut. However, I thought that our team could bring good synergy with each other good and bad points, so I agree to do this duo.
KookHeon
Do you have goals for this comeback?
It would be nice to have a Rookie of the Year Award.
KookHeon
Yes, the Rookie Award. I hope we can be a team that goes up little by little.
YuVin
You seem to be very close to each other. Can you talk about each other (qualities and defaults)?
We were close before "Produce X 101" but with the program, we became even closer. It was very hard. Even if we did not have any mission together, I could lean on KookHeon. He is even more dependable than what I thought. He is also good at keeping secrets and that is a huge quality. He is also a good dancer so I received a lot of help from him. With all this, we became naturally closer to each other.
YuVin
I have a lot to learn from YuVin even if he is younger than me. I am not good at talking when I have to step up. YuVin knows that I am in a difficult situation and helps me by speaking first. He also tells you sincerely if something is wrong. He is also too passionate and his tension never goes down so that tends to make people a bit tired from time to time.
KookHeon
These days, there are not many duos, can you explain the good points of B.O.Y and who are your role models?
We know each other for so long time and we have this "real brothers" vibes. For the role model, I really respect TVXQ.
YuVin
I have a lot of role models, for example, BTS & EXO. My mom is also my role model because she never gives up.
KookHeon
What differentiates B.O.Y from other teams?
We are all-rounder with good vocals and dance skills.
YuVin
We can do well in all types of concepts.
KookHeon
We also got the chance to watch 'My Angel' MV which was filmed in the U.S.. There is a clear effort in the filmography and the concepts with numerous sets and outfits & solo and duo performances. The final scene especially caught attention with the reunion of the sun and moon.
On the overall, the two boys gave mature vibes with their concept of Sun (YuVin) and Moon (KookHeon) (as seen in the pictures below). Also note that the album comes in two versions, 6 AM (day) and 6 PM (night)
The MV will be released today 12 PM, don't miss it. For now, you can check the trailer.
With this comeback, KookHeon and YuVin are ready to melt the hearts of Meet You with their 'brother' vibes, sweet voices, amazing performance, and preparation for this quality album.
Read More : Exclusive Photos: B.O.Y 1st Mini Album "Phase One : You" Media Showcase