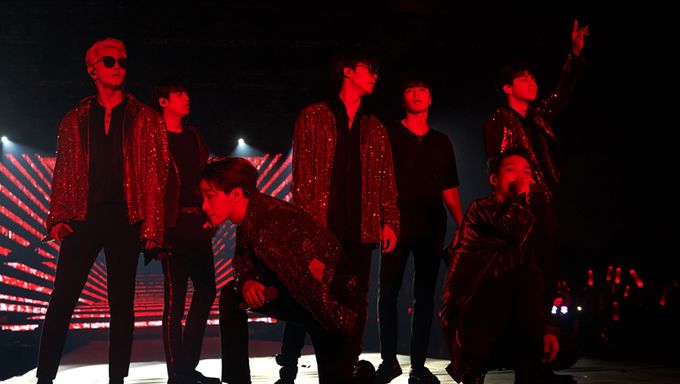 On November 4th, Sunday, YG Entertainment's K-Pop boy band iKON returned to Singapore for the second time, bringing their "CONTINUE Concert Tour" to the Max Pavilion Hall. Kpopmap was more than happy to be invited for the event and our photographer in Singapore made her way down and shared the following review.
Decked in shimmering red jacket the seven charismatic boys kick started the concert with hip-hop track 'Bling Bling' followed by 'SINOSIJAK' and the rock version of 'Rhythm Ta'.
The breaks in between performances were filled with small talk segments. Despite the language barrier, all of the members tried to converse in English with the fans. Jay shared that they haven't had enough time to do much sightseeing but they managed to eat Singapore famous dish for lunch, Bobby added that they had all sort of crabs including chilli crab, butter crab, pepper crab, and even shrimp!
Beach set-up was placed on the stage, turning into summer vibes as the boys danced to 'Cocktail' and 'Only You' from their latest album. Double B (Bobby & B.I) took over the stage keeping their fans entertained as the other 5 members went backstage to prepare for the special performance. Bobby suggested an aegyo battle with B.I, the duo each made cutesy poses, causing the crowd to go wild.
Fans were in for a vocal treat as the Vocal Unit (Jay, Song, DK, JuNe and Chan) appeared back on the stage with 'Perfect'. The two powerful rappers, Bobby and B.I also put on solo stages, further showing their charms.
The septet performed plenty of old favourites and new hits, 'My Type', 'Everything', 'Killing Me' and as well as one of their most popular hits 'Love Scenario' which had the entire stadium of fans singing along loudly and proudly.
Nearing the end, Bobby asked everyone to put down their phones and jump along during the last two songs, 'Dumb and Dumber' and 'B-DAY'. Their antics definitely brought the crowd to an even higher pitch of excitement and energy.
The two hour-long performances were over in what felt like a blink of an eye. With that, the concert ended with iKON bowing politely and expressing their thanks. Let's not forget DK mentioned that they will be releasing a new album very soon and will be coming back to Singapore for another show.
Read More:  Exclusive Review: WINNER 2018 EVERYWHERE Tour In Singapore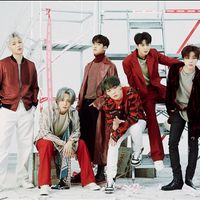 Became a fan of iKON
You can now view more their stories