On May 20, 2019, a private trainee who challenged himself to the limit two years ago in "Produce 101 Season 2", has finally made his debut for his long waited and excited fans with the debut album, "Another".
Kim JaeHwan was already proven to the public as a skilled singer while he took a role as a lead vocalist during his days in Wanna One.
Even before his debut, Kim JaeHwan has participated in various stages and musical projects which naturally broadened his musicality and Kpopmap went to see how he had put all his experience as a musician to this solo debut album.
The album, "Another" which he prepared for the past 6 months, contains a total of six songs including 'My Star', 'Designer' and his title track, 'Begin Again'. It is known that he was involved in every single song production in this album and apparently he had been part of writing lyrics for four of his tracks as well, showing his talent as a singer-songwriter.
He revealed that for this album he tried really hard to put his musical capability in various genres of music in order to develop his own color and identity in music.
Kim JaeHwan's title song, 'Begin Again', is a traditional Korean ballad which was co-composed by none other than, one of Korea's most famous ballad singer, 'Im ChangJung'. The song narrates the emotions of a person who is brokenhearted, which starts off with piano and gradually builds up by adding several instruments in the climax.
During the interview, he introduced the song as a "movie-like" tune and also added that the song expresses of reminiscing the good times, wanting to turn back time and go back to those days.
His heart-piercing voice and his rich expression, combined with the song, was enough to moisturize those dried emotions(I didn't cry and thought about my ex).
The music video of this song is also another highlight that you might want to check as 'Kim YooJung' the beloved actor appears in it. During the interview, Kim JaeHwan said, "It was my first attempt in acting, and as expected, I was very awkward. But the talented YouJung helped me out a lot and it may not have been good acting for me but the whole experience was easier with her help."
He had also prepared a second stage with a funky pop song called, 'Designer' which contained a contrasting atmosphere from his first performance. It was full of energy and his exploitation of the vocal techniques was phenomenal(And he danced as well!).
During the interview, he emphasized trying to find his own identity as a singer. "During Wanna One, I would only sing partially but now that I am a solo singer, I had to change the way I sing since I have to sing a full-length song. I wanted to take the good parts that I have acquired from Wanna One and create a new me." He added.
Kim JaeHwan is scheduled to have a fan meeting in Korea and also in Asian regions and it was reported that all of his scheduled events are sold out. To thank his fans, he said that he prepared a lot of songs for them and hopes that his fans could enjoy every bit.
In the end, he wrapped up the showcase by sharing his dreams. "I want to stay as an idol. To do that, I have to keep on growing and show diverse sides of me to the public. I want to experience all kinds of music and move people through my music." Kim JaeHwan commented.
Read More : Exclusive Photos: Kim JaeHwan 1st Mini Album "Another" Showcase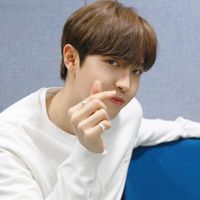 Became a fan of Kim JaeHwan
You can now view more their stories