A five-member boy band from T.O.P Media, made a come back on the first week of June where the summer is just around the corner in Korea!
TEEN TOP is the name and they came back to their fans with an album called "DEAR.N9NE" and the title song for this album is "Run Away". As the album name indicates, 2019 marks their 9th year since their first debut, and Kpopmap attended their media showcase to witness how the five members have matured both as a musician and as a person.
This time, the album has two concepts, "Drive" and "Journey". As you can see, both version implies a summery vibe to it, consisting 6 songs including, "Run Away", "Your Man", "Swag", "What Do You Think", "That Night" and "Happy Ending".
Among the list, last three songs were composed by one of the members, ChangJo, proving his fans and the audience, how he has grown and broadened his musicality since the debut.
Their title, "Run Away" is a tropical house tune infused with Mumba tone, providing a deep melody and yet hits you with powerful energy. The leader of the group C.A.P participated in writing lyrics to this song, narrating a person who will throw away all the concerns and inner struggles and will go where one wishes to go.
A change that you can see quite clearly is their restraint choreography. Every past albums, TEEN TOP's performances were rather fancy and energetic. This time, the performance was more, detail-oriented. The small hand gestures and various positions each member changes gives you a more controlled/synchronized movement and yet gives you a strong impression.
Like the group has revealed, their choreography was very delicate. During the interview, the group said that this was different from their style and that it was the first time trying a sexy concept.
When asked how it feels to make a comeback, the group answered that it's been a while since we were on the stage as a group, so it was great to be together again and make an album (Each member had their own individual works until this comeback).
As they are now in their 10th year as a group, TEEN TOP shared how they want to proceed with their future. "We all want to excel in what we are doing as an individual. this may include music, acting and more. But, we all agreed that we would still be part of the group as long as it lasts." Niel commented.
When asked, what they want to achieve through this album, leader, C.A.P answered by saying that they want to communicate with their fans as much as they can and hope that everyone can enjoy their music.
Best of luck to TEEN TOP and their latest album, "DEAR.N9NE"!
Don't forget to check their latest M/V as well!
Read More : QUIZ: Do You Know All The Members Of TEEN TOP?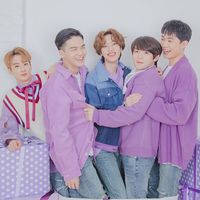 Became a fan of TEEN TOP
You can now view more their stories