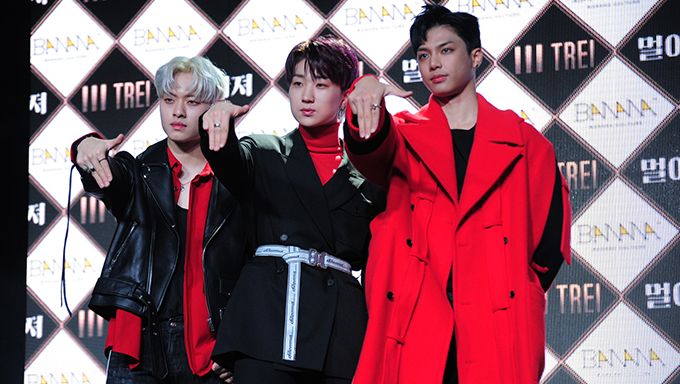 The recent trend in K-Pop idols is to have at least more than five members in the group. But today in the K-Pop industry, a new boy band debuted breaking that trend with only three members in the group.
Their name is TREI.
On Feb. 19, 2019, Kpopmap attended to witness the beginning of TREI, a 3 membered boy group with their debut album, "BORN; 本".
With them being part of BANANA Culture, they are also the little brothers of EXID.
The name TREI is translated as number three. This contains not only the meaning of the number of members in this group but also represents the minimum amount that forms an organization, and encloses a message that each member will show maximum talent as a group.
TREI was produced by none other than the famous k-pop producer, "Sinsa-Dong Horangi (Tiger)", who previously have produced numerous hit songs and boy bands including BEAST and VIXX. TREI was his latest project.
Rainbow's JiSook hosted the showcase and officially introduced the members on the stage.
Like many other groups that had their debuting moments, they seemed as if their palms were sweaty, knees weak, arms were heavy, and maybe mom's spaghetti…? But no matter, they seemed determined. Check out more HD photos taken Kpopmap here.
JaeJun, the leader of the group, wore an oversized red coat mixed with black stripes on the side and it seemed a bit too big for him but somehow he pulled it off rather nicely. ChangHyun, the rapper and also the composer of the group had his black leather jacket with a bright red shirt inside. His shining blond hair made the color of his outfit pop out even stronger. JunTae, the main vocal and the lyricist in the group wore a black suit, a red turtle neck inside with a white belt around his waist over the jacket.
Like EXID's previous showcase, it seemed as if the 'Red' was the theme color of the group as well.
How They Were "BORN"
After a photo session for the media, JiSook held a short interview session, giving us a chance to get to know the group and the members a little deeper.
One of them was how they were formed. Fans already might know but JaeJun and ChangHyun were contestants in JTBC's survival program, 'MIXNINE'. After the program, the two worked together closely and focused on making music. During that time, they wanted a new member who can bring a new sound to the group. That's where JunTae the lead vocalist came in.
The Moment of "BORN ; 本"
This may be their official debut, but the group has already been doing various activities to expose themselves and keep close with their fans. They communicated through social media, performing cover songs, putting out some of their originals, and also had their own live streaming show every Friday for their fans.
All these experiences, and preparation, were well shown in their title song live performance, "Gravity(멀어져)". Three maybe small amount but each member knew what their role was. When JaeJun performs, others support him to be in the spotlight, and same goes for JunTae and ChangHyun as well. It reminded me of a well-balanced Jazz Trio as each gets spotlighted during their solo performance.
Check out their music video and tell us what you think!
After Being "BORN"
After the great performance, they held a Q&A session. Below, are some of the questionnaires Kpopmap wanted to share with the readers.
Three membered group is a bit rare in the recent K-Pop scene, do you have a role model from the past?
We have a great role model from the past, such as, "SobangCha (Fire Truck)" and "Seotaji and Boys" (Seotaji and boys who were active in the early '90s are considered to be the root of all K-Pop. YG's CEO, Yang HyunSeok was one of the members of that group).
There are numerous groups debuting this year. What do you think differentiates TREI from other groups?
All the members of TREI take parts and participate in all the songs we work in, and this sets us a greater identity. Also, since we only have three members we can give stronger impressions to our audiences.
TREI's debut single album "BORN; 本" is released on Feb. 19, at 6 pm KST
We would like to thank TREI and BANANA Culture for inviting us for this showcase.
Read More : Exclusive Photos: TREI 1st Mini Album "Born;本" Showcase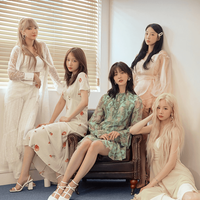 Became a fan of EXID
You can now view more their stories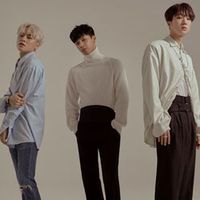 Became a fan of TREI
You can now view more their stories