'희로애락' is the theme of VICTON's SeungWoo solo fanmeeting and if you did not already know what that means, it refers to the 4 emotions, happiness, anger, sadness and joy.
At first, many were wondering why that 4 emotions were chosen to represent his 1st ever solo fanmeeting but after taking a look at the incidents which SeungWoo had been through, it seemed to be rather appropriate.
A lot of things had taken place for the past 6 months, with the idol debuting as the leader of X1, going through the controversy of rigged voting of Mnet "Produce X 101", disbandment and finally returning as a member of VICTON.
Our editor had headed over to attend the fanmeeting on Feb. 8 at KyungHee University Grand Peace Palace after securing a ticket that was reportedly said to have been snatched away in just a minute's time.
The highly anticipated fanmeeting began with SeungWoo walking down the stairs and heading to the mic stand that was placed in the middle of the stage.
Fans were pleasantly surprised when they found out that he had opened the stage with 'Havana' which was part of the set list that he had spoilt through his Instagram story some days ago.
The first time which he had performed his version of 'Havana' was during VICTON's 1st ever fanmeeting back in 2018 "Welcome To Wonderland" together with members SeungSik and HanSe. Since he was performing it alone this time, he had skipped straight to his rapping parts that caused many to scream because of just how perfect he sounded.
Moving on, he had also prepared a small part of the song 'CRUSH ON YOU' that was uploaded on VICTON's official Soundcloud account.
After serenading fans with his sexy vocals, the MC then took over and gave the idol a short break before he returned on stage and greeted those who had came out especially for him.
A talking session then continued and he also had fun sharing some unreleased photos. Soon enough, the idol continued to hype up the crowd with a dynamic dance performance with 'Weight In Gold' by Gallant.
That is not all as he returned on stage with another 3 songs, 'Your Turn', 'Your Letter' and '공허함만 찼는데' which has the meaning of 'filled up only by emptiness'.
Even just by looking at the title for '공허함만 찼는데', many could already sense the fact that it was going to be a rather sad song.
Bingo.
The lyrics of the song suggests how SeungWoo was apologetic to many people (family, friends and fans) as he had been through a really long journey before finally being able to stand at where he was. Despite feeling empty and direction-less at some point, he sang that he was never going to forget the moments when he was really thankful.
In an attempt to lift the spirit again, the MC then led the fanmeeting to the next corner where the idol was able to read some of the post-its messages which the fans had left prior to the start of the fanmeeting.
Hilarious and funny messages were read out and SeungWoo was also seen smiling brightly and having lots of fun.
As usual, all good things had to come to an end and he performed to Jay Park's 'JOAH' before concluding his first ever solo fanmeeting.
As he waved to the fans, he made his way up with the stairs just like how he had came down when he had started the fanmeeting.
It only occurred to our editor later that SeungWoo might had actually made a reference to the movie "The Truman Show" after seeing the tweets that many fans were sharing after the fanmeeting had ended.
For those who might not know what the movie is about, it talks about how the main character, Truman Burbank, discovered that he had been living in a TV set his entire life. His everyday was being monitored by audience, controlled by the TV producers and when he finally found the way to leave his 'home', he also walked up a flight of stairs with the sky and cloud as the background.
The similarity between 'The Truman Show' and Han SeungWoo's ending had caused many to think about the message which the idol might had intended. Perhaps he was suggesting the fact that he will be venturing into the unknown despite knowing that there will be many setbacks and hardships that he had to go through with the new start he had chosen. Perhaps he was suggesting some other issues that had been bothering him for a long time but was unable to show on the surface.
All in all, the ending is up to everyone's interpretation and no matter what the message SeungWoo was trying to deliver, it is certain that his future is filled with anticipation, excitement and definitely an earnest heart to pursue the things he wishes to do with his loved ones.
Read More : Exclusive Review: VICTON 1st Concert "New World" - Not An 'End' But 'And'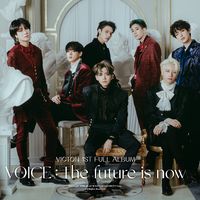 Became a fan of VICTON
You can now view more their stories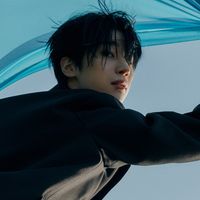 Became a fan of Han SeungWoo
You can now view more their stories