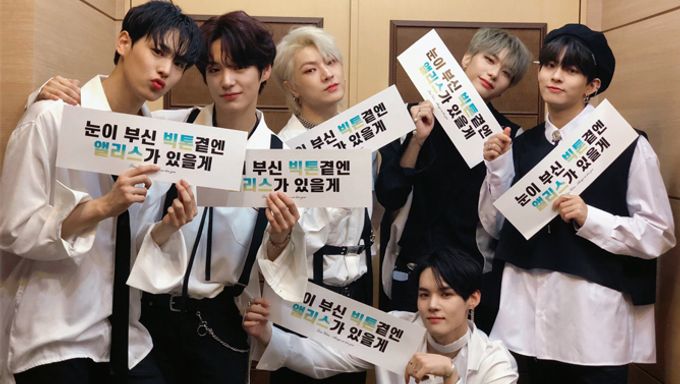 VICTON - Voice to New World is the boy group under Play M Entertainment which houses other K-Pop groups like Apink.
When they first announced that they will be having a fanmeeting after more than a year of hiatus, the demand to see the boys were so high that Play M Entertainment had changed the venue to accommodate more fans, ALICE. Adding on, fans from all over the world were also able to watch the fanmeeting live through V-Live Plus.
One of our editors was lucky enough to get her hands on a ticket and made her way to the fanmeeting that was held on Sept. 22 at Donghae Arts Center of Kwangwoon University.
Here is the following review that she had shared as a fan.
Many would notice that recently VICTON is getting more attention because of the appearance of members ByungChan and SeungWoo on Mnet "Produce X 101". ByungChan had dropped out of the show halfway due to health issues and SeungWoo made it into the debuting group and became part of X1.
Despite having only 6 members on the team, VICTON opened the stage performing to 'What time is it now?' with deafening cheers from ALICE that filled the performance hall.
Perhaps it has been a long time since they had stood on stage, their nervousness could be seen through their expressions. Even member Chan had shared on Twitter hours before the fanmeeting that it had been a long time since he had put on his in-ear.
[#찬]

오랜만이네! 잘부탁해!!💙💛 pic.twitter.com/gxDVkQhw6W

— VICTON 빅톤 (@NewWorld_VICTON) September 22, 2019
Also performing to 'Fine', they caught their breath and greeted ALICE officially, waving enthusiastically even to those seated at the second level.
The boys then shared about their feelings about the fanmeeting which they had been preparing really hard. It was during that moment when some of the answers from the members had caused ALICE to become emotional.
One instance was when maknae SuBin talked about how they did not have any schedules and stages since the start of 2019 but after performing straight for 2 songs, he instantly felt refreshed!
On a lighter note, the MC brought them to the next section and revealed that the set list for the fanmeeting was just so long that the party was just getting start.
By that time, fans were not sure what to expect because a typical fanmeeting would most probably consists of several performances, games, Q&A sessions and at most a fan event. They were not wrong but many also did not expect themselves to go through an emotional roller coaster.
#1 WARMTH
The warmth and love among the members could be felt when they confessed that they were going through difficult times but believe that they are going to be alright. They did not give up on each other and like what ByungChan had mentioned, this is their turning point, the moment when they will become a better singer, person, group and so on. It was also then when the fact that they truly depend and love each other could be seen through the sincerity in their words.
#2 SURPRISE
The next thing fans knew, they found themselves covering their mouth when the boys returned to stage, dancing to 'Gangsta' with a totally unexpected see-through outfits.
The most shocking outfit would be ByungChan's as the back of his jacket had a slit which perfectly showed off his back. Screams from everywhere could be heard clearly from those surprised by their dance performance.
The end of 'Gangsta' also signaled the start of their cover performance for 'Lost Stars'. The lighting, dark outfits and radiating light from the lightsticks (Vickey-bong) caused fans to sway and sing along together with the boys.
#3 HAPPINESS
When they moved on to the game section, they were divided into two teams and competed against each other. Hilarious moments such as when they were dancing freestyle to the songs that were played and how they tried to 'win' the hearts of ALICE were memorable. For the losing team, each members had to do 'aegyo' and many squealed after seeing Chan, SeungSik and ByungChan calling ALICE in an adorable manner.
#4 BITTERSWEET
Perhaps the next section of the fanmeeting took many surprise, even the members themselves.
SeungWoo appeared on the screen with a video message dedicated to the 6 of them, telling them that he would always be supporting them behind their back and it was noticed even by the MC that HanSe was the first to break down into tears upon seeing the message.
SeungSik was emphasized by SeungWoo as he is the next oldest member after him. He had passed the baton temporarily onto SeungSik and believed that he would be able to lead the team well in his absence.
It was in no denial that the sniffing from fans could be heard clearly and even the other members had a hard time controlling their tears.
In reply to SeungWoo who had specially recorded a video message for them, the members also shared their feelings to their oldest brother.
HanSe revealed that he had initially asked their manager if it was possible to get SeungWoo to record a video message even for ALICE during the fanmeeting but was told that it would be hard to do so. However, it appeared that their manager had lied to him!
Once again, the atmosphere of the fanmeeting was down and the MC tried to lift it up by sharing that VICTON still had many stages left for ALICE and told everyone to cheer up.
#5 HOPE
They left the stage to change into the next outfit and behind the scene clips for the fanmeeting preparation was shown.
When they returned to stage, it was said that they would be having a photo time together with ALICE and had them to turn to their back while taking a picture.
However, once again, the boys were surprised to see that the staff had prepared another special and touching videos with letters written to them by ALICE with 'Light' as the background music.
'Light' is a meaningful song to both VICTON as well as ALICE as it talks about how they will be able to see the light in dark and difficult times.
As that happened, ALICE lifted up the paper slogan prepared for them which was a secret event prepared for the 6 boys. The message written on it also caused the boys to feel even more loved and supported than any other time.
Each and everyone of them broke down once again and even ByungChan who did not previously cried could be seen with tears streaming down his face.
Although it is arguable to say if the staff had purposely wanted to make VICTON cry, the reactions from them proved another thing.
The pain of not being able to do anything for the past year was truly suffocating and they were finally given the chance to do something they love again. Although the opportunity came with a price to pay, all of them were grateful that they were able to stand on stage and greet those who have been waiting and supporting them for a long time. It never came easy and it would most probably not be an entirely smooth path waiting in front of them.
However, through the hope which were given by ALICE and by their loved ones, they are willing to challenge themselves and show much they deserve to be loved.
They ended by performing with 'Light' and waved to all the ALICE that came to support them.
Our editor believed that it might be the end of the 3 and half hours fanmeeting but a start to an absolutely new journey waiting ahead for them.
Read More : VICTON's ByungChan Revealing Outfit During Fanmeeting Causes ALICE To Jaw Drop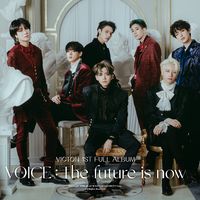 Became a fan of VICTON
You can now view more their stories