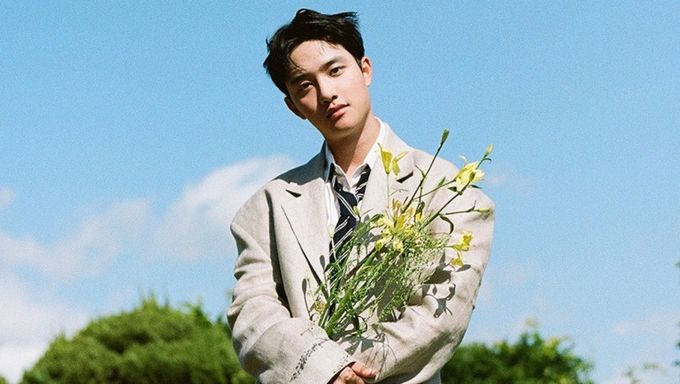 EXO's golden-voiced vocalist D.O has officially released his first solo album, appropriately titled "Empathy". It was dropped on all music streaming sites on the 26th of July, 2021 at 6PM KST. Fans around the world instantly showered the album with all their love and support, making the album record number 1 on the iTunes Top Albums Chart in over 59 international regions.
Concept
The concept for this album is a free expression of feelings and emotions to offer a ray of hope to people all over the world, struggling at the moment from the darkness of the pandemic. A set of black and white concept photos was released for this album that captures the simplicity and elegance that is portrayed by D.O.
On the other hand, the second set of concept photos is a burst of bright, spring colours. D.O radiates with energy and his smile is contagious. He's surrounded by flowers and a lovely blue sky, prefacing the sweetness of his music.
The third set of concept photos evokes nostalgia. The setting is indoors but the window gives us a glimpse into the clear sky outside. D.O has a vintage camera which further amplifies the desired concept.
All the concept photos show D.O is a gentle and warm light, making fans even more expectant of his solo album.
Fashion and Appearance
D.O. 디오 '공감' Mood Sampler Ver.3https://t.co/FPbBhpgs20

D.O. 디오 The 1st Mini Album [공감]

🎧 2021.07.26. 6PM KST#디오 #DO(D.O.) #공감#엑소 #EXO #weareoneEXO pic.twitter.com/axDQqog3hK

— EXO (@weareoneEXO) July 21, 2021
D.O has three distinct outfits in his concept photos: a presumably white knit cardigan, a grey-beige blazer over a white shirt and cropped pants, and a striped tie reminiscent of a school uniform and finally, another knit cardigan, which adds to the cozy mood of the music and the concept.
D.O. 디오 '공감' Mood Sampler Ver.1https://t.co/qKTAZwXXIc

D.O. 디오 The 1st Mini Album [공감]

🎧 2021.07.26. 6PM KST#디오 #DO(D.O.) #공감#엑소 #EXO #weareoneEXO pic.twitter.com/emy5Tv5hxv

— EXO (@weareoneEXO) July 14, 2021
The outfits are not extravagant and loud but rather quietly classy and do their job of conveying the equally soft and gentle mood of "Empathy". It perfectly encompasses the delicate nature of the concept while also successfully evoking the right mix of emotions.
Music and Music Video
"Empathy", D.O's first solo mini-album is made up of 8 songs spanning 24 minutes and 31 seconds. The songs are 'Rose', the title track, 'I'm Gonna Love You', the B-Side track featuring Wonstein, 'My Love', 'It's Love', 'Dad', 'I'm Fine', 'Rose - English Version' and finally 'Si Fueras Mía' which is the Spanish version of "It's Love'.  Fans were especially impressed by his pronunciation and diction in Spanish with native speakers complimenting his skills.
As a Spanish speaker I can say that he has a good pronunciation, some words may be difficult to pronounce correctly, but D.O did it very well. It was really beautiful to listen him singing a song in Spanish 😭 he's so special with Latin Exo-ls I loved it! ❤ https://t.co/qkYEsRsoQr

— EXO- DFTF 🚀 (@EXOLKaiBaek) July 27, 2021
i was singing si fueras mia while i was washing the dishes and my lola (who is basically a fluent spanish speaker) asked me what song am i singing. then i told her its a song of D.O and she told me the lyrics are beautiful and i made her listen to the track and she likes it. ♡

— kat •°๑ (@sechanville) July 28, 2021
D.O has proven once again that his incredible talent knows no bounds. The music video for 'Rose' has elements of animation, which add to the innocent and lovely vibe. Overall, "Empathy" deserves to be "Album Of The Year" without a doubt.
Which song from "Empathy" is your favourite?
※You can vote multiple times without sign in.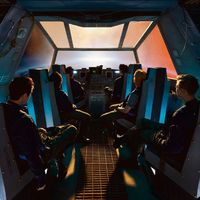 Became a fan of EXO
You can now view more their stories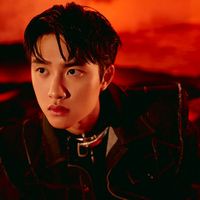 Became a fan of D.O.
You can now view more their stories