Lotte Duty Free recently held a special event for EXO fans. But their plan backfired as they chose the wrong promotional photo to edit.
Below is the photo.
And below is the original photo.
As some of you may be aware, South Korea and China's current political conflict is the main reason why Lay is not able to promote anything related to EXO or K-Pop.
Which was the reason why he was photoshopped out of the promotional photo.
However, fans are criticizing Lotte Duty Free, as they feel they could have just picked a photo where Lay was not in it to begin with.
we all know that yixing is unable to promote with the rest of exo due to thaad but the fact that lotte used an old ot9 picture and edited yixing out is unacceptable. disrespectful is an understatement. they could have used any other ot8 picture. what would they stoop this low?

— irene (@addictivejongin) January 22, 2019
Lotte Duty Free edited Yixing out here gosh such a disrespcet? pic.twitter.com/zD2RBfgaJs

— jinxkyuala (@real_kazzyyyy) January 22, 2019
LOTTE DUTY FREE really had the audacity to erase Yixing out of a pic for an event for Chinese fans. Wtf? Just use another one with 8 of them if Yixing cannot attend. pic.twitter.com/CGJG5xu8lU

— ले की लैला (@exoisweird) January 22, 2019
Lotte really edited yixing out of an ot9 pic. This is so disgusting. There are tons of pics where he isn't there but they decided to disrespect him. Srsly wtf

— prachi || rt pinned please ??‍♀️ (@ineffable_kai) January 22, 2019
Should Lotte Duty Free have chosen another photo instead of photoshopping this one?
Read More : This Man Reveals How Miserable His Life Is After Being Mistaken As EXO ChanYeol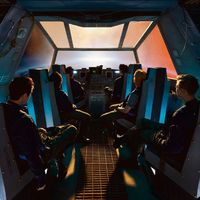 Became a fan of EXO
You can now view more their stories