EXO member Lay recently sat down for an interview with Pear Vid and discussed his thoughts regarding the entertainment industry.
For being such a highly successful idol and member of one of the most popular K-Pop groups in the world, his views on the entertainment industry comes as both a surprise and not a surprise at the same time.
The interviewer asked if in the future, he has a son, and that son was an aspiring idol trying to get in to the entertainment industry, would he be willing to support him in that career direction.
Lay answered saying that if he had a son, and he was trying to get in to the entertainment business, he would discourage him from doing so and would rather suggest him to become a doctor, lawyer, and etc. instead. He also mentioned that he would support learning how to make music and learning instruments, but not the entertainment industry itself.
Lay also strongly emphasized this when the interviewer asked what if in the case of a daughter. He said he would discourage even more so if he had a daughter and she was trying to get in to the entertainment business.
You can watch full video below!
Read More : BTS, EXO, Drake, Ariana Grande, & More Currently Candidates For Super Bowl 2020 Half Time Show Performance On Billboard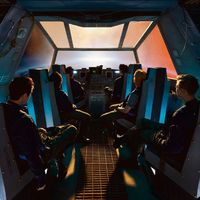 Became a fan of EXO
You can now view more their stories