BaekHyun of EXO recently posted a picture of him with noticeably too slim and too long legs that CANNOT be real. As he posted the picture,  he mentioned  "Am I talented in doing the photoshop ? >,<" . Fans first reactions were having heart attacks by such adorableness, however, they stared to add a little more laugh to it by making memes.
Must Read : BeakHyun of EXO Back with Dark Hair Color Looking Sexy
Let's see how long his legs are and some memes that make fun of it!
This is the original post that BaekHyun posted on his Instagram.
Now check out the memes that fans made! He is EVERYWHERE!!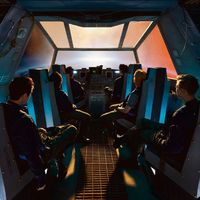 Became a fan of EXO
You can now view more their stories