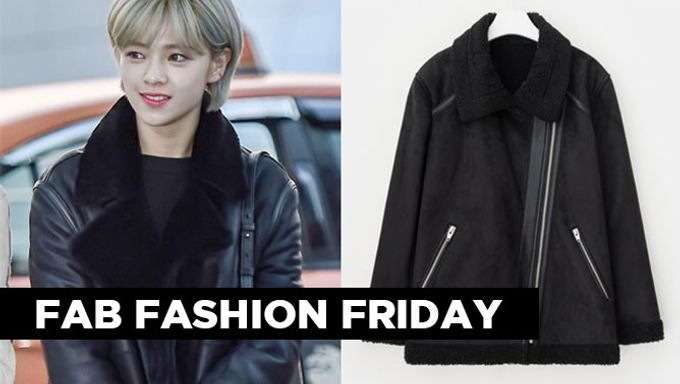 Looking for that cool and chic style that doesn't lose warmth for fashion? I got just what you're looking for.
We're hitting that chilly peak right before the weather starts to mellow down into winter-spring. The main thing on your mind - fashion wise - is how to keep warm, without losing any of your signature chicness. Whether you be chic like TWICE's JungYeon or sweet and bubbly like NaYeon, the mustang coat trend is just what you're looking for.
Must Read : K-Pop Idol With Fabulous Airport Fashion: TWICE JeongYeon
Let me introduce you to the current hot trend among K-Pop fashionistas, called the mustang coat!
Vroom Vroom~
Is it a horse? A sports car? Nope. It's the latest coat trend knocking! The mustang coat's been a crowd favorite for not just K-Pop idols, but the fashion people of Korea. And it's time for you to get on board this horse/car!
What is it, exactly?
It's a coat lined with sheep-skin (faux or real) with a basic design similar to a motorcycle jacket! The basic outline gives you a non-puffy look, while the soft inside lining keeps you nice and toasty with extra insulation.
Brown Mustang Jacket & Black Mustang Coat
"I ain't no easy, better think about it TWICE!"
Still not sold on the trend? Well how about I let these top K-Pop fashionistas inspire you! Idols from all different genres rock out in the coat of various styles. TWICE's JungYeon and EXID's SolJi are the epitome of badass chicness in an all black mustang coat, while AOA's SeolHyun and EXO's Xiumin know how to be refreshingly sweet in their brown mustangs.
If you're care to dare... why not go bold in a mustang coat with furry sleeves? T-ARA's HyoMin and Sulli can rock it, so why not you?
So what you mean is that I can be as stylish as these K-Pop stars if I wear a mustang coat? Absolutely... not! You gotta know how to dress up if you wanna style up! And who would I be if I didn't lovingly show you some of the sick ways to style out your mustang coats? 😉
Let me start with the all black chicness.
Hands down, all-black is the way to be! It just gives it a flair of I'm standoffish, but not to the extent of a leather-only jacket look. So I recommend styling it with a nice turtleneck sweater paired with a badass leather skirt. It helps tone down all that black, so it looks refreshing and not emo. Remember not to go crazy with all that leather! Pair it nicely with a simple black boots and you're ready for the runway, girlfriend!
Black Mustang Jacket & Turtleneck Sweater & Leather Dress & Black Ankle Boots
Not an all-black kind of fashionista?
The brown mustang coat can be paired totally differently. I personally love it when idols pair their lighter mustang coats with a simple patterned dress. Remember to keep the base color dark and earthy, though! With a simple frill and pattern, you can totally change up the masculine mustang coat into something cute and youthful. Let's add in some knee high boots to complete the image!
Brown Mustang Jacket & Navy Pattern Ribbon Dress & Simple Dotted Dress & Knee High Boots
Warm, fashionable, and a K-Pop trend?
Just take my money!!