Be classy and smooth in these gorgeous velvet dresses, perfect for any occasion and location.
Want to know what fashion trend is hot among our favorite Korean stars right now? The ladies are loving this throwback-but-not trend of velvet. Among all the ways to use velvet in your beautiful wardrobe, the velvet dress is the top pick among your biases right now. Why not get in the velvety game?
Must Read : FAB FASHION FRIDAY: K-Pop Idols' Favorite Fall 2016 Turtleneck Trends
What to wear? What to wear?
Well, look no farther, because I've got the latest fashion trend that you've just GOT to try! I first spotted the velvet dress on APink's goddess maknae, Oh HaYoung. HaYoung wore this beautiful pink velvet slip dress by RS9 Seoul for her "Pink Revolution" concept photo shoot... and we just fell in love!
Get the exact same velvet dress as HaYoung by RS9 Seoul.
Ready to board the velvet trend? Don't say NO!
HaYoung wasn't the first, and she surely wasn't the last. Another goddess maknae created her whole new concept based on the trending look! SNSD's SeoHyun just made her solo debut recently, and yes - she's donning some of the cutest velvet dresses ever seen!
(Maknae goddesses must be another trend.)
What am I waiting for?! Let me get right down to how and where you can get these beauties. The first velvet style I recommend is trying it out in slip-on style with a classic turtleneck underneath. Jung SoMin and Park GyuRi are rocking the same style as SeoHyun, looking ever so feminine during the cold winter. Going for a more boyish style? Go Ara nailed a velvet slip-on crop top with a turtle neck, giving off a more playful look to the trend.
Found the look? Here's 3 velvet slip-on styles that are totally similar, totally cute, and totally affordable.
Ash Gray Velvet Slip Dress & Pink Velvet Slip Dress & Velvet Crop Top
Me gustas tu, me gustas tu, me gustas full on velvety dresses!
GFriend's SinB, Wonder Girls' SunMi and Kim GoEun slayed the full-on velvet look. If you're more SeoHyun than HaYoung, try going top to bottom velvet. Stylize with a cute choker, a bad ass leather jacket or some glittery accessories. The complete velvet look is beautiful for any occasion night or day. & of course I've prepared some wallet-safe options for you to try out!
Velvet One Piece Dress & Velvet Long Sleeve Shirt & Velvet Laced Skirt
The slip-on and full-on may be a safe choice, but take it to the next level with these out-of-the-box velvet pieces! DIA's Jung ChaeYeon surprised everyone with her unique velvet footies. Ever the fashionistas, Ivy stole the night out in a velvet blouse, while Narsha ruled the streets in her popping velvet pants. Are you fashion-daring enough to try them out?
Velvet Boots & Velvet Blouse & Velvet Pants
There's just too many velvety choices to choose from!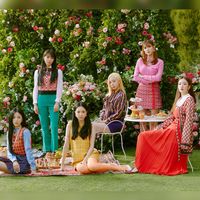 Became a fan of Apink
You can now view more their stories