Making a promise to someone and keeping it is important but it's much easier said than done. Having said that, a fan of K-Pop boy band WINNER made a bold promise last year in 2017 and returned this year at a fan meeting to show the members that she kept it.
So what did she promise? Apparently, the fan promised WINNER members that she would enroll in university and make them proud. What's amazing about this fan is that she didn't just get accepted to any old university. It turns out that she was accepted to Seoul National University, the nation's most prestigious university.
WINNER members were all impressed and congratulated their fan. As SeungYoon was praising and complimenting the fan, other fans began to show support and admiration for her as well.
Seoul National University is the nation's number one university. If a South Korean makes it to Seoul National University, their life is pretty much set and won't have any problems surviving. The majority of the nation's brightest, most successful, and powerful people are alumni of the university.
Read More : Wanna One's Yoon JiSung Spotted at DongGuk University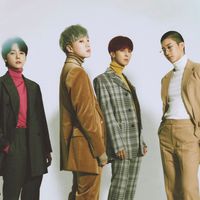 Became a fan of WINNER
You can now view more their stories