After the announcement of BTS's upcoming 'Speak Yourself' world tour, fans have been on alert mode as they are preparing to secure tickets to the concerts.
And we all know how exorbitant ticket prices can get, especially if they are being resold by someone who managed to get a hold of them before selling out.
With the 'Speak Yourself' tour scheduled to launch on March 1st, BTS fans only have a week left to prepare before they all scramble to buy tickets online. And this has caused a few crazed fans to begin selling various different things from real estate and even their own heart!
We had no idea that fans could become this desperate.
You can check out some of the weirdest and craziest things that are up for sale by BTS fans at the moment.
Who Needs A Heart? 
This fan seems to live by the idea that we're all dying anyway so might as well enjoy life to the fullest without any regrets whatsoever. We really don't know if this fan is being serious, but this fan is asking only for serious inquiries.
Goats Anyone?
Eggs Anyone?
No one has been able to determine what eggs really mean here. Is it the one you use to eat for breakfast?
Hi, I'm selling my eggs to buy bts concert ticket, dm me if you are interested. pic.twitter.com/k5RSuKfmY8

— MeovV ? (@7Meowv) February 19, 2019
A Yacht, Watches, And A Lambo
The fan wrote "clocks" but we're sure the fan meant luxury watches. This one is slightly difficult to believe, but hey who knows right?
And some fans are even selling family members. We're quite certain that they're not serious, but if it's BTS we're talking about, you never know.
I'm selling my brothers for bts tickets concert DM if interested ???#SPEAK_YOURSELF

— Aya | 꾹 ? (@gcfjmjk) February 19, 2019
selling my sister for bts tickets she's dumb af but she's useful... kinda x

— aisha || BTS✈️WEMBLEY (@mesmericguk) February 19, 2019
And of course, more organs and body parts.
SELLING MY LUNGS I'M ASTHMATIC SO THEY'RE PRETTY SHITTY BUT I'LL GIVE U A DISCOUNT I JUST NEED BTS TICKETS

— brenna (@seokjincd) February 20, 2019
selling my kidney !!
reason?? i need BTS concert tickets !!
dm me for the price !!
KSJSKDJD #SPEAK_YOURSELF

— ????????? • Hobiuary (@domibwi) February 19, 2019
Read More : The K-Pop Idol Who Sold His Phone Number To Girls In School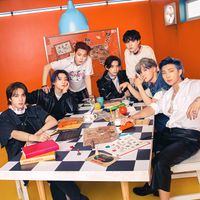 Became a fan of BTS
You can now view more their stories