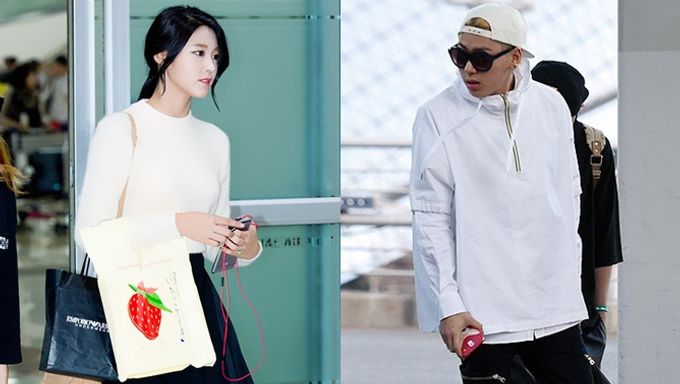 In a world of camera phone papparazis, how are K-Pop couples supposed to spend some quality time?
Just a few moments ago, a fan uploaded photos of the latest K-Pop power couple on a secret date before the Dispatch news even hit the world! 
Must Read : Dating Timeline of New K-Pop Couple AOA's SeolHyun & BLOCK B's Zico
Only a few days ago, the K-Pop scene was turned upside down when two unlikely idols announced the start of their beautiful relationship. AOA's SeolHyun and BLOCK B's Zico, two of the hottest stars in the industry, were caught by Dispatch on a series of secret rendezvous. Although the news took the world by surprise, most of the responses have been encouraging and positive.
Just when you'd think the news was dying down, the SeolZi couple shot right back up to the top as the latest issue again. That's all thanks to a fan who had just uploaded photos of the two hanging out at the Haneda airport in Tokyo, Japan.
In the pictures, you can see SeolHyun and Zico focusing on their phones while sitting back to back. (We can't help but wonder if these two love birds were secretly sharing romantic texts to each other. giggle.) The fan had taken these pictures before Dispatch even broke the news. From the fact that YuNa and ChanMi were with SeolHyun, fans assume that the pair were catching up at the airport after a schedule in Japan.
Either way, it makes us feel giddy inside to see the two love birds sitting as close as they can get to each other without sounding up alarms. Now that the news is out, we're just happy the pair can now sit side by side confidently next time they get caught at an airport!
Must Read : iKON Kim Jin Hwan & AOA Jimin's Past Dating Rumor Resurface