Fans Comment On The Interesting Ways BTS Drinks During Dinner Party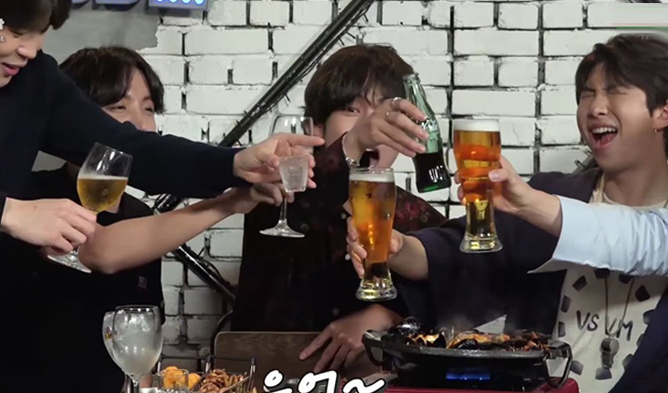 On June 12th, BTS released a video almost of an hour long of them eating and chatting.
It was known to be the dinner party which BTS members have prepared for their fans as part of their annual BTS Festa lineup. You can watch the full video here.
During the dinner party, BTS members were seen drinking beer, soju and even coke!
As they began to talk and chat, Jin caught the attention of many as he showed the way he drinks soju.
His action caused laughter from the members! Fans who were watching the video also talked about how hilarious it was.
Apart from Jin, no one could forget about J-Hope as fans found out that he was actually drinking beer with a straw!
Some even commented that he should not drink with a straw as he could get drunk much more easily! Halfway through the video, many could tell that J-Hope's face has turned red!
In addition, V showed the way of opening a bottle of soju. He impressed the rest of the members with his unique and interesting way of opening it.
His fans know that he is not good in drinking alcohol and was surprised by his amazing way of opening the soju bottle. Some even said that they are going to try his method next time!
What do you think of their drinking methods?
Read More : BTS Becomes First K-Pop Idol Group Ever To Have YouTube Video With 400 Million Views