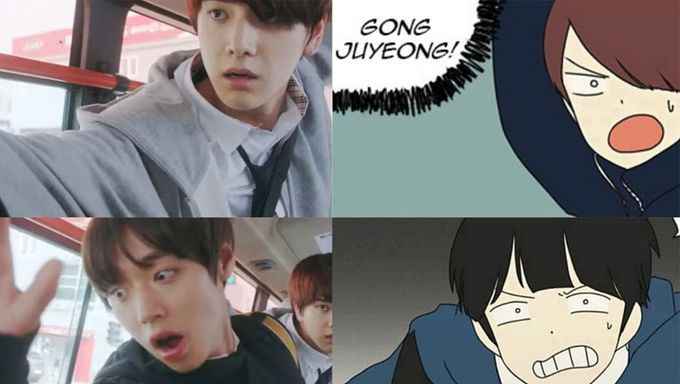 The web drama "Love Revolution" is based on the popular webtoon written by Lee YongKa of the same title. You can read the webtoon in Korean here. In Korea, the webtoon has a lot of fans and many have been curious about the adaptation of the story to a drama.
Park JiHoon, THE BOYZ's YoungHoon, Lee RuBy, Jung DaEun, WJSN's DaYoung, and more are the lead actors of this romantic comedy of Kakao TV. "Love Revolution" tells the love story of the couple Gong JuYoung (Park JiHoon) and Wang JaRim (Lee Ruby) while depicting realistically the teen's lives with their love, friendship, study, and dream.
At the release of the posters and first pictures, the characters seemed similar to their webtoon version with matching clothes and hairstyles.
Fans have compared the scenes of the first episode of the web drama to the webtoon and it is very similar.
Have a look at the pictures comparing the web drama and the webtoon below. Be aware of spoilers of the first episode.
https://www.instagram.com/p/CEaqhIqHiQN/
https://www.instagram.com/p/CElB0RgHTDq/
https://www.instagram.com/p/CElDoNKnr4m/
https://www.instagram.com/p/CElGs3qnR5w/
It looks like it is 100% matching.
If you have yet to watch the first episode, you can watch on Kakao TV here (no subtitles).
Do you also find it similar? Are you watching?