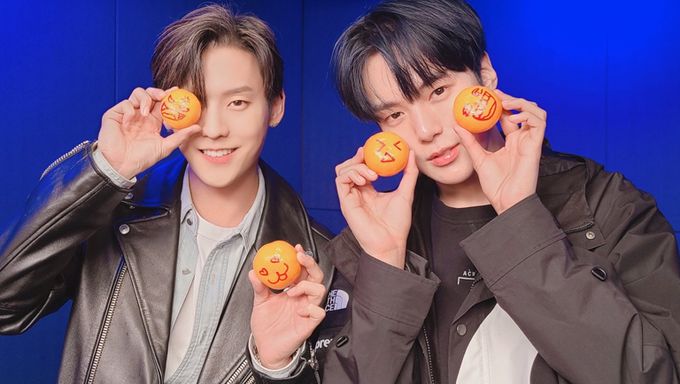 Do you know that there are 9 different K-Pop idols who are called MinHyuk? There are many idols with the same name but some decided to go with a new stage name to avoid confusion with others.
On Dec. 2, many noticed that BTOB's MinHyuk had appeared on MONSTA X's MinHyuk radio show "Vogue Ship Show" as a guest.
It was already hilarious since the start as MONSTA X's MinHyuk mentioned that the guest of the day was another MinHyuk. In the end, BTOB's MinHyuk had introduced himself with a lyrics from aespa's song 'Black Mamba' which has been a trending meme these days.
MINHYUK MONSTA X INTRODUCED MINHYUK BTOB AND HE SANG AESPA'S SONG BY CHANGING THE LYRICS LMAO pic.twitter.com/zuT0ZLEU1Q

— julia ෆ (@kihyunest) December 2, 2020
You can check out the short clip which a fan had uploaded above.
The moment had already caused many fans to burst out laughing since the lyrics of 'Black Mamba' suggest how there cannot be 'two' in the same place. This also refers to how BTOB's MinHyuk was also joking that there could only be one MinHyuk.
Needless to say, the two idols had a great time interacting with each other and fans who were watching it also could not help but loved how funny they were.
After the radio had ended, two of them also did not forget to take photos together.
#보그싶쇼 민혁이는 나야 둘이 될 순 없어 🙄 #비투비 #민혁 #몬스타엑스 #민혁 이 빛날 혁이들의 만남 넘 상큼훈훈다정터졌잖아요 🍊>.<🍊 오늘도 행복한 댕티쥬 화실 🧑🏻‍🎨 #허타람찌 #민혁2 #NOW온에어 pic.twitter.com/YIc22FU7JU

— NOW. (@kr_now) December 2, 2020
BTOB's MinHyuk is currently promoting under BTOB 4Uand MONSTA X's MinHyuk will be appearing on various music awards this week.
Are you hoping for more interactions from them too?