The fans of HIGHLIGHT touched everyone's heart just by using light in INK concert.
Building a healthy fandom culture is crucial. Showing basic manners to performers as well as fans of other groups isn't hard but not always kept. When those manners are kept in public events like concerts, utmost energy and vibes are created and everyone, including the performers, gets to enjoy the event fully.
INK concert was a scene where the healthy manners of fandom were shown in action. Fans of HIGHLIGHT changed the colors of their cheering stick to the color of the group performing. When Red Velvet and SunMi were performing, their cheering stick shined red, when B.A.P was performing, their cheering stick turned green. When VIXX LR was performing, their cheering stick turned blue. Of course, when HIGHLIGHT was on stage, their's turned white.
#Highlight fans spelled their name in lights during their stage at #INK2017. #Light is the best! #Kpopmap_INK2017 ★Kpopmap pic.twitter.com/5gkvF29Rwk

— Kpopmap (@Kpopmap) September 9, 2017
It wasn't only the cheering stick that touched everyone's heart, but the attitude of cheering and singing along to whoever is on the stage. Their attitude created a great enjoyable vibe and pulled everyone in into building the healthy fan culture.
After the concert was over, a number of people from different fandom thanked the fans of HIGHLIGHT for their effort.
HIGHTLIGHT also seemed to be touched by what their fans have done for them. 
Members thanked their fans for making such a wonderful atmosphere to perform. Also, other performers like HmChan of B.A.P mentioned of them and thanked as as well. 
Hoping such sound fandom culture would continue, more and more fans are spreading the effort of LIGHT saying they should learn from them. 
Must Read : Which Group's Lightstick Glows The Longest?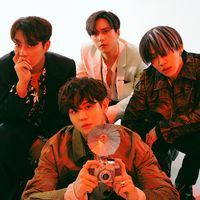 Became a fan of Highlight
You can now view more their stories