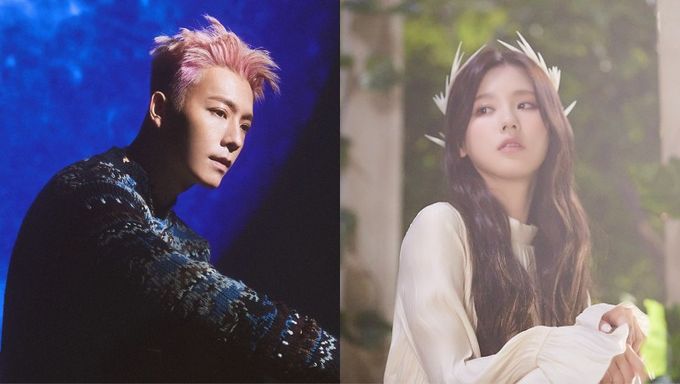 Super Junior's DongHae is all set to release his digital single "California Love" featuring 2 songs: one featuring NCT's JeNo, called 'California Love' and a b-side track featuring (G)I-DLE's MiYeon, called 'Blue Moon'. On October 11, DongHae released red and blue themed concept photos to tease the release, which is slated for October 13, 2021 at 6PM KST.
Fans are overjoyed by the news of these collaborations as well as DongHae's solo endeavours. "BLUE MOON" took over Twitter trends worldwide as fans showered the announcement with love and excitement.
This is how fans' are reacting to this amazing collaboration announcement!
miyeon gave us dreaming about you, how to love, you were my breath, side effect, and now blue moon all in 2021.. 5 songs that's could be a whole mini album

— immortal girlbosses international (@hoteldellunaost) October 11, 2021
So, Miyeon featured twice in a "Blue Moon". Once as an actress, and now as a singer. :))

— Ruska (@organic_sin) October 11, 2021
Composer Donghae is back and ofcourse my dream collab!!!! DONGHAE & JENO on one song. Can't wait for this! 😭😭😭

1. Donghae ft Miyeon - Blue Moon
2. Donghae ft Jeno - California Love
3. Super Junior KRY - Shadow Love @donghae861015#Donghae #동해 #JENO #제노 pic.twitter.com/x2pN0sPZUJ

— ʙᴀᴄʜɪᴇᴇ🌼🍀 (@HaeZa021209) October 6, 2021
yey my ELF and Neverland heart is so happy!!!! 💙💜 please nevies support and take care of Lee Donghae don't send hate to our precious baby 🥺 and I assure you that ELF will support and take care of Miyeon unnie 🥺💕 let's all enjoy this on the 13th ❤

— watermelonclap_anj (@aglc_amg) October 11, 2021
My (clown) opinion is guessing Zero is the name of the documentary, Love Story is the name of the title track, and red(muhly) would be hyukjae's solo ft. kyuhyun matching blue moon by donghae ft. miyeon https://t.co/tZ43YDJasf

— Natsumi (@space_n_riot) October 10, 2021
Are you excited for 'Blue Moon' and 'California Love'? Share your thoughts with Kpopmap in the comments section down below!