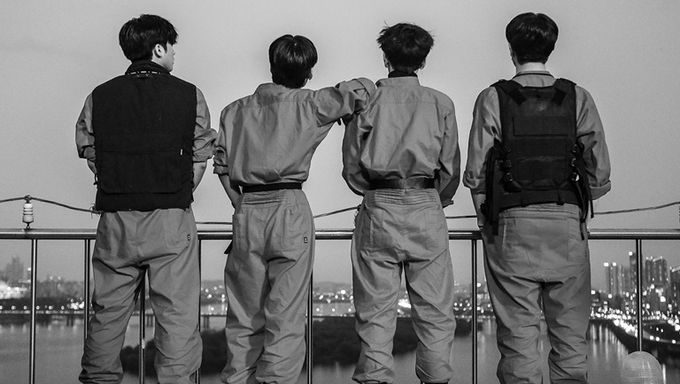 Not long ago, OUI Entertainment had uploaded a performance preview video of OUIBOYS on their official YouTube account. Kpopmap had also mentioned it through an article and you can take a look here.
With that being said, OUI Entertainment continued to hype up the possible debut with the release of a picture on their official Twitter account.
2020.05.15 PM 6:00
OUIBOYS Performance Video#위보이즈 #OUIBOYS #OUIentertainment pic.twitter.com/JcF9D1FUY4

— 위엔터테인먼트 (@OUI_ent) May 14, 2020
They shared a photo with 4 of the OUIBOYS and also mentioned that the performance video will drop on May 15, 6 PM KST.
However, ever since the agency had released the performance video preview, mixed reactions could be seen from the fans because of several reasons.
Prior to the upload of performance video trailer, OUI Entertainment had announced that they will be closing Kim DongHan's official social media accounts.
[NOTICE] 공식 팬카페 및 공식 SNS 운영 안내https://t.co/NziEMgWRRO#김동한 #KIMDONGHAN

— 김동한(KIMDONGHAN) (@KDH_official) May 12, 2020
This had suggested that he would probably be joining the other OUIBOYS to debut in a new group.
Fans of Kim DongHan were unhappy with the sudden and abrupt decision by the agency and felt that they did not take into account the feelings of the fans. Some also shared that they understood it could be better for him but did not like how the agency did not give a proper explanation to the fans.
Aside from fans of Kim DongHan, some fans of Kim YoHan also did not like the idea of him debuting in a group. There were some who prefer him to debut as a solo artist but also some who prefer him to debut in a group.
There were also fans who mentioned that 'Aprils' Fool Day is already over'.
With such mixed reactions, it seems like not everyone is happy with the decision that OUI Entertainment might be debuting OUIBOYS as a group.
What are your thoughts about it?
Read More : OUI Entertainment Drops Performance Preview Video Of OUIBOYS