According to insiders from the advertisement industry on May 31st, it was revealed that many companies are sending love calls to the worldwide famous BTS. In addition to that, they revealed that many do not require guarantee as long as BTS becomes the model for their company. Previously, it was also reported that BTS does not have time for new commercials this year.
The reason for that is because many companies believe that BTS is one of the most influential idols in the world. With that, if BTS were to become their model, the brand would also definitely be recognized internationally. Also, they revealed that BTS is the most wanted model currently.
Currently, BTS is modelling for 7 different brands such as VT Cosmetic, LG G7 Smartphone, Coca Cola, Lotte Duty Free, Kookmin Bank, Smart Uniform and of course, Puma.
When fans noticed the influx of different brands and companies wanting BTS after they rose to fame, they began to praise Puma for selecting the 7 boys as their model. Puma chose BTS as their model in 2015 when they were still unknown to many people.
Fans also complimented on how they think that Puma is one of the companies which truly produce quality advertisements and products which emphasis the boys' individuality from other groups. They also think that Puma should be given an award for being able to recognize the potential in BTS when they were not as popular as now.
With that, they also hope that Puma would continue to use BTS as their model for a long time. Earlier in 2018, BTS was announced as the global ambassador for Puma.
What is your opinion about this?
Read More : President Of South Korea Moon JaeIn Congratulates BTS On Their Billboard Success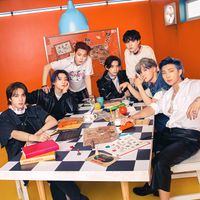 Became a fan of BTS
You can now view more their stories