As many K-Pop fans would be aware, there are many talented idols like G-Dragon, Suga, Woozi, and JinYoung who are also talented producers and songwriters.
You might wonder if there are any female K-Pop idols who have similar talents. Definitely so. Some people seem to forget that there are also amazing female idol songwriters that have influenced and shaped the K-Pop music scene just as much as their male counterparts.
MoonByul
Mamamoo's sweetheart Moonbyul isn't just your typical idol who only performs and awes fans with a radiant smile. She has 25 copyrighted records she has co-written in her catalog and has worked with Kye BumZu. Her lyrical talent can be heard on the song 'Secret Love'.
LE
The EXID member has a songwriting catalog that actually comes directly second after Miryo. With 51 copyrighted songs, she has worked with Verbal Jint, HyunA, K.Will, and that's just a small fraction of the list. She was the lyrical brains behind Troublemaker's 'Troublemaker' and 'Now'. She has also co-wrote Jewelry's 'Look at Me', Secret's 'Talk That', HyunA's 'French Kiss' and Boy's Republic's 'Round'.
IU
We believe that IU is possibly the best female songwriter in K-Pop. She may write music mainly for herself, but that's because the core of her artistry is defined by her songwriting. There is also clear evidence that she may potentially be the best when we consider the fact that she had the most #1 songs on Billboard Korea K-Pop Hot 100.
Miryo
The 'Brown Eyed Girl' probably has more songs written than any other female idol songwriters under her belt. She currently has a total of 88 copyrighted songs, even beating IU who has a total of 40. Needless to say, she is a veteran writer within the industry and her experience is something that we can't help but respect.
Read More : Netizens Amazed By BTS Creator Bang SiHyuk's Background Of Elite Family Members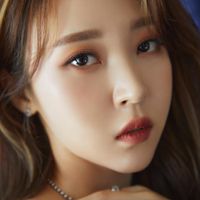 Became a fan of MoonByul
You can now view more their stories