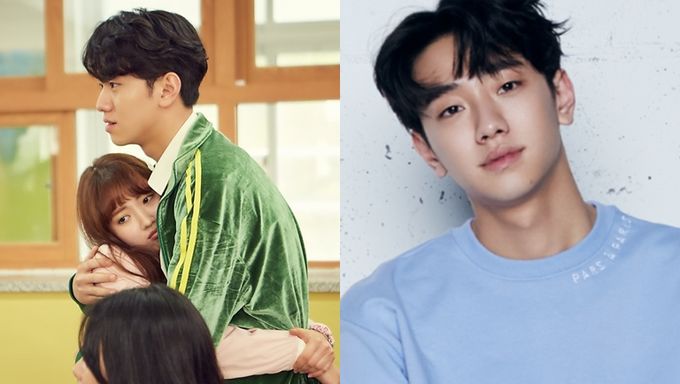 The new teenage crime drama of Netflix "Extracurricular" is about to start. It will be released on Apr. 29 only on the platform.
Along with the lead actors, there is Nam YoonSoo, he is an actor new to many. It has been 6 years since his debut as a model. Find out more about him.
The rookie actor and model is 186cm tall and was born in 1997. He is part of the Agency Garten along with actor Kim DongKyu, models, and artists (hair artist, make-up artist, and more). He is currently enrolled in Digital Seoul Culture Arts University in the modeling department.
Nam YoonSoo debuted in 2014 as a model. He appeared at the 2017 S/S Hera Seoul Fashion Week working for Kim SeoRyong, Nohant, MSKN2ND, Ordinary People, and Sewingboundaries. He was also the model of magazines such as GQ, Esquire, Dazed and confused, L'Officiel Hommes, Ceci, Nylon, and GARCON.
He also has worked with a lot of brands in ads such as Adidas, Topten, MUSINSA, NIKE, BEANPOLE ACC, L'OREAL (Thailand), MARIMOND, KANGOL, Tommy Hilfiger, and more.
He started to act in 2018 in the drama "4 Kinds of House". The actor then acted in the Playlist web drama "Want More 19" where he had the lead role (check the first episode here with English subtitles). The actor started to gain popularity through this popular web drama. In 2019, he continued his acting in the dingo web drama "I am not a robot" and the tvN D web drama "The Temperature Of Language: Our Nineteen".
Nam YoonSoo also appeared on entertainment shows such as "Playing Oppa" (2019), online web TV show "Eat's Seoul" (2019), and more.
The model turned actor has acted in a lot of MVs including Brown Eyed Soul's "Right" with Shin YeEun, Rothy's "Lost Time", Epitone Project's "First Love" with Suzy, Lee JinAh's "Random", CHEEZE's "Be There", STANDING EGG's "Yell", BrotherSu's "Dot", and more.
Nam YoonSoo is active on his Instagram where he posts lots of handsome and cute pictures.
He posts cute videos too.
https://www.instagram.com/p/BxJieTnn8dA/
The actor is a cat lover and he has a special Instagram account for his lovely cats named Chacha and Bobo. You can follow them at @chacha__bobo.
https://www.instagram.com/p/B5iD0zfBRvV/
In an interview for TopStarNews (released in March 2020), he explained that he doesn't have many celebrities as friends. He is close to his childhood friends and family from where he lives since young in Namyangju city (close to Seoul).
For more about the actor, you can check his agency website or follow his Instagram @nam_yoonsu.
Are you interested in the actor?