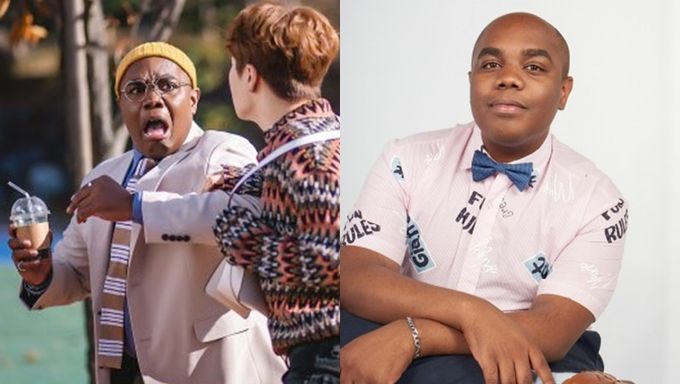 The Netflix sitcom "So Not Worth It" is gaining attention for its multi-cultural cast! It tells the stories of international students mix together inside a colorful college dormitory in Korea. These eight students come from Korea, the U.S., Australia, Thailand, Trinidad and Tobago, and Sweden.
Terris Brown is acting as Terris from Trinidad and Tobago, a Casanova who keeps on changing lovers. He is smart and confident.
Let's find more about the actor!
First, Terris Brown is not from Trinidad and Tobago but the U.S.! He was born on November 22, 1990.
He is part of the agency FMG along with some non-Korean personalities residing in Korea. The actor studied Korean for professionals at the University of Hawaiʻi at Mānoa and Korean Language and Literature at Korea University (among other degrees).
Terris Brown debuted in the music show "Vocal War: God's Voice" in 2016. He sang to Lee MoonSae 'In the Rain' and received praise for his amazing performance and Korean pronunciation. Since then, he gained recognition in Korea as a non-Korean who sings Korean songs better than Koreans. He is also interested in music enough to compose and arrange songs.
Aside from his singing, he is actively working as a cultural ambassador in Korea. That includes being an honorary ambassador of the U.S. for the PyeongChang 2018 Olympic and Paralympic Winter Games.
He is also a member of the project performance team named "Hangeul" with global musicians and TV personalities residing in Korea which aims to "aims to promote Korea and create a bond between Korean nationals and foreign expats with performances" according to The Korea Herald. The team was selected as ambassadors for the Seoul Immigration Office.
View this post on Instagram
Terris Brown has appeared in other TV shows and English broadcasts such as "Mystery Rank 123", "Hidden Singer: Season 5", "Stage K", "English Go! Go!", "English Clinic", etc.
About his acting career, he started in 2017 as an airport immigration agent in "I Can Speak". In 2019, he acted in the movie "Jazzy Misfits" (2019) with Jo MinSoo and Cheetah as a half Korean who doesn't speak English.
You would maybe remember him as the English teacher in "True Beauty" where he appeared briefly.
You can know more about the actor in this interview in English about when he came to Korea, how he started to enter the entertainment field, how he learned Korean, and much more.
You can follow him on his Instagram @brownterris.
View this post on Instagram
We can look forward to his future career in Korea. Did he also catch your attention?