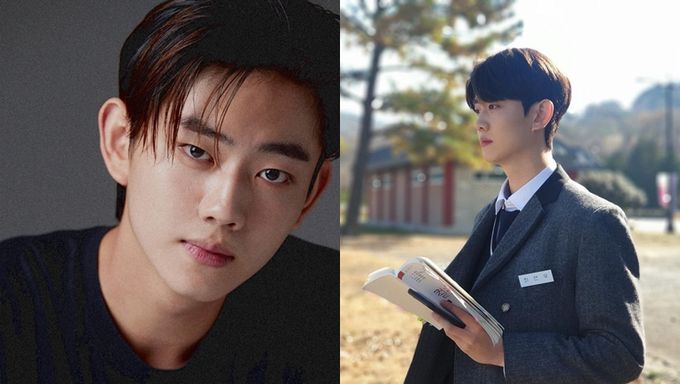 Today, we are introducing actor Yoo Jun who is acting with Hur HyunJun (ex-THE BOYZ's Hwall) in the BL web drama "Color Rush". With his good acting and good looks, he had caught the eyes of the viewers.
Yoo Jun might be new to a lot of overseas fans but he is not a rookie actor. He actually has quite a lot of experience!
Let's start with basic information, Yoo Jun was born on Apr. 14, 2000, and is 178-180cm. He used to be active under the name Hong TaeUi. The actor is under Starhaus Entertainment with Ahn HyoSeop, Lee TaeRi, Kwak SiYang, and more.
He debuted in 2012 in the tvN drama "Yellow Boots" and the same year when he appeared on the Tooniverse show "Kids Survival Super Hero" he caught the attention of the viewers with his handsome look (see the video below).
Since then he has acted in so many dramas and movies as supporting roles including "That Winter, The Wind Blows", "The King's Face", "Super Family", and more. Here is one scene from "Super Family".
Yoo Jun also got a lot of lead roles in the web dramas of Tooniverse including "Ohlala School 2", "Pluto Squad", "Thunder Store 2", and more. He also appeared on variety shows of the channel.
The actor has been very active as a kid and teen.
He is now a grown-up man. Before "Color Rush", he had the lead role in the web drama "Miracle Girl" (2019). You can have a look at the teaser below.
Yoo Jun knows how to speak Chinese and was awarded in 2011, 2012, and 2013 at Chinese Speaking contests. He is attending ChungAng University in the Department of Performance and Video Creation and majoring in Theater.
The actor is also talented in playing the guitar.
View this post on Instagram
Here is one more video of him playing the guitar back in 2014.
Finally, we can't forget to mention his handsome Instagram pictures. You can follow him on his Instagram here @yyjjun_xx.
Were you also curious about the actor?